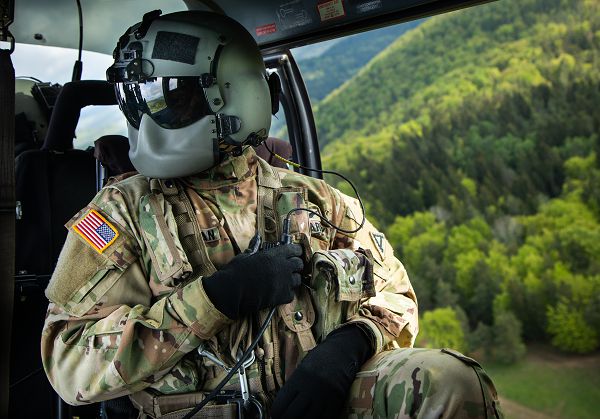 Hohenfels, Germany. (May 5, 2023): When can a Specialist issue orders even a General must obey? When they are an aviation Crew Chief aboard military helicopters.
That is when, for safety reasons, what they say goes regardless of rank. In this photo by Specialist Joshua Zayas, Crew Chief Specialist Logan Speakman, assigned to the Joint Multinational Readiness Center, talks with his team over the radio while aboard the UH-72A Lakota aircraft.
Specialist Speakman and his Lakota are participating in Combined Resolve 18, a joint exercise involving U.S. Army Europe and Africa forces and the 2nd Armored Brigade Combat Team of the 1st Cavalry Division.
All crew chiefs initially join the Army as helicopter repairers where they learn their trade by tearing down their assigned aircraft and building it back up. As Crew Chiefs, this experience comes in handy when major repairs are needed in an emergency.
They also must have proven leadership skills to oversee both aircraft operations and the maintenance crews that keep their bird flying. Their other duties include pre-flight checks, overseeing daily maintenance, and maintaining an aircraft logbook. In combat, a Crew Chief instructs fellow team members on how to mark landing zones, drop grenades, and fire machine guns.
Crew Chiefs oversee the entire helicopter crew and frequently arrive hours before takeoff and are the last to leave the hanger after every mission.
The Lakota is a twin engine four blade chopper procured by the Army in 2006 to replace the aging UH-1H Huey and OH-58 Kiowa helicopters. The Lakota can carry up to 8 troops or 2 stretchers plus a medical crew and large clamshell doors on the rear of the airframe to allow access to the cargo area. Fully loaded, it can reach speeds of 170 mph.
The Dakota is now the standard unarmed helicopter used by the Joint Multinational Readiness Center based in Bavaria, Germany. The Center teaches battle tactics and has a Leader Training Program for non-commissioned officers. The 7th Army Training Command headquartered at Tower Barracks in Grafenwoehr, Germany, is responsible for conducting all readiness training for U.S. Army Europe and Africa and is currently involved in training Ukraine forces in their battle against the Russians.