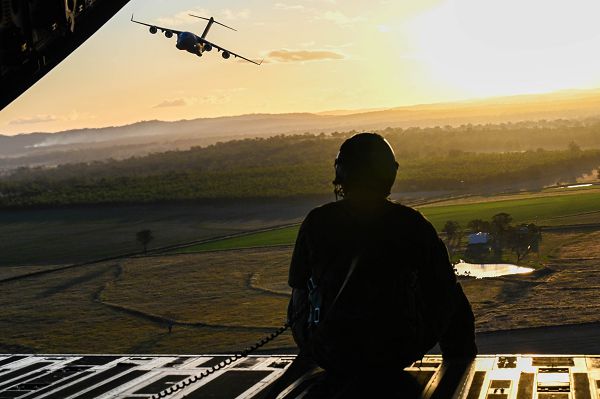 Royal Air Force Base Amberley, Queensland, Australia. (May 6, 2023): In this photo by Senior Airman Makenzie Cooper, U.S. Air Force Technical Sgt. Joseph Hoffman, an Advanced Instructor Course loadmaster with the 535th Airlift Squadron, sits on the ramp of a C-17 Globemaster III during a training flight over Australia during exercise Global Dexterity 23-1, This is the sixth exercise between the U.S. Air Force and its Indo-Pacific partners that has taken on greater urgency given the current political situation.
Global Dexterity is a coalition exercise between USAF and RAAF C-17 squadrons to develop seamless operations and maintenance integration so that one day RAAF and USAF operations are indistinguishable from one another. The Royal Australian Air Force No. 36 Squadron and U.S. Air Force 15th Wing teamed up during the two-week-long exercise to practice tactical airlift and airdrop capabilities.
During the exercise, both nations integrated aircrews and conducted low-level formations and cargo and personnel airdrops taking the unique opportunity to fly numerous C-17s in formation. In a humanitarian crisis, for example, the ability to launch multiple C-17's with mixed crews doing airdrop missions will be critical to saving lives.
The C-17 Globemaster III is the Air Force's most flexible cargo plane capable of rapid strategic delivery of troops and all types of cargo to main operating bases or directly to forward bases in the deployment area. The C-17 is enormous, measuring 174 feet long with a wingspan of 170 feet and is powered by four giant Pratt & Whitney F117-PW-100 turbofan engines. Despite its gargantuan size, the C-17 is designed to operate through small, austere airfields and it can take off and land on runways as short as 3,500 feet and only 90 feet wide. This flying warehouse cruises at 500 mph at an altitude of 28,000 feet and has a range of approximately 2,400 nautical miles. The aircraft is used for tactical airlift and airdrop missions and can transport ambulatory patients during aeromedical evacuations.
Unseen to the public is the enormous amount of planning that goes into every C-17 cargo flight. The size and weight of U.S.-mechanized firepower and equipment have grown over the years and so has the need for larger air transport capability to deliver troops and equipment to the battlefield. Cargo is loaded onto the C-17 through a large aft ramp and door system that can accommodate102 paratroopers with their accompanying equipment.
The Loadmaster is responsible for properly loading, securing, and escorting cargo and passengers ensuring everything and everyone is safe and secure on flights all over the world.
(Editor's Note: The Advanced Instructor Loadmaster Course is very selective. Airmen must be nominated through their respective squadrons and approved by their wing commander and then pass a selection board that decides who will attend the rigorous 14-week program).