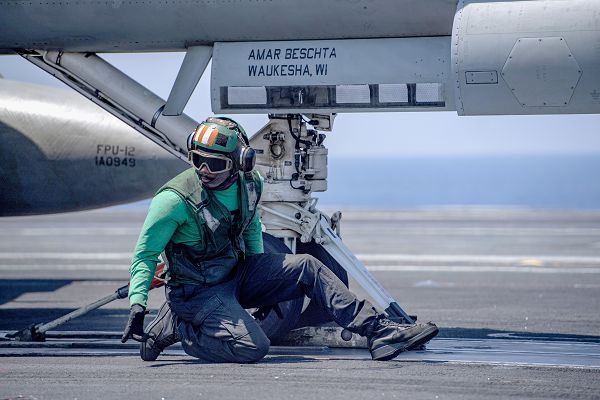 Philippine Sea. (May 16, 2023): The U.S. Navy recently announced the decision to retire the veritable USS Nimitz aircraft carrier just as the nation's oldest-serving U.S aircraft carrier successfully completed its 350,000th arrested aircraft landing, a milestone nearly 48 years in the making. In this photo by MC2 Justin McTaggart, a Sailor prepares an F/A-18E Super Hornet from the "Kestrels" of Strike Fighter Squadron 137 for launch. Commissioned in 1975, the Nimitz has served with distinction in numerous regional crises around the world. Tens of thousands of Sailors and Marines have sailed on the Nimitz during some 30 deployments to fulfill difficult and dangerous missions.
The Navy named its largest and most powerful class of aircraft carrier in honor of the accomplishments of Chester W. Nimitz, Chief of Naval Operations during World War II.
Admiral Nimitz, who died in 1966 at age 80, not only commissioned America's first nuclear powered submarine but also established the Navy's elite Blue Angels flight demonstration squadron.
Plans for disassembling and salvaging the Nimitz are underway and, unless Congress extends its lifetime, this symbol of American firepower will no longer ply the world's oceans defending freedom.