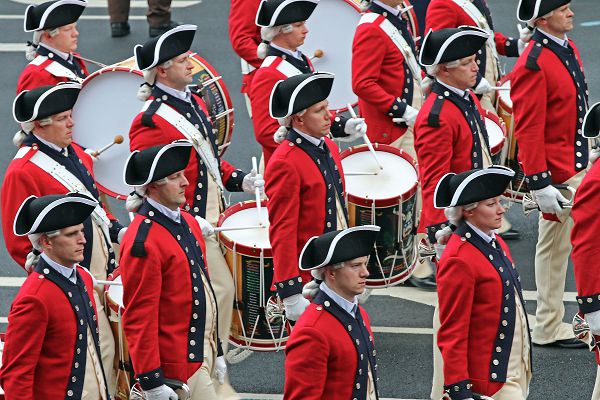 Washington, D.C. (May 24, 2023): In this photo by Sgt. Paige Behringer, Soldiers of 3rd U.S. Infantry Regiment, "The Old Guard," Fife and Drum Corps march down Pennsylvania Avenue during the 58th Presidential Inauguration. The 3rd U.S. Infantry Regiment is the oldest regiment in the Regular United States Army and is best-known for its ceremonial duties at Arlington National Cemetery.
Since 1948, the 3rd Infantry has provided funeral support to Arlington National Cemetery including round-the-clock guarding of the Tomb of the Unknown Soldier and ceremonial support to the Military District of Washington. The unit guards the Tomb of Unknown Soldiers from World War II, Korea, and Vietnam all day, every day, in every kind of weather.
The Old Guard Fife and Drum Corps is the only unit of its kind in the armed forces whose musicians wear uniforms patterned after those worn during the American Revolution. The uniforms date to 1784 and consist of black tricorn hats, white wigs, waistcoats, colonial coveralls, and distinct red regimental coats.
The 3rd Infantry also fields the Continental Color Guard, a precision drill team whose mission is to showcase the U.S. army's precision nationally and internationally. The five-person unit is comprised of two armed Guards and three-color ensigns who carry the National Colors, the U.S. Army Color, and the Color of their parent unit.
Finally, the most recognizable feature of the Old Guard funeral procession is the Caisson Platoon, a unit of riders whose six horses pull the flag draped coffin to honor a comrade on their final ride to Arlington National Cemetery. Another military tradition is the "riderless horse," which is led behind the caisson wearing an empty saddle with the rider's boots reversed in the stirrups, indicating the warrior will never ride again.
Notable funerals the unit performed include General "Blackjack" John J. Pershing, Presidents John F. Kennedy, Douglas MacArthur, Herbert Hoover, Dwight D. Eisenhower, Lyndon Johnson, Ronald Reagan, and Gerald Ford.
The Old Guard continues to uphold America's military traditions for fallen American heroes to this day.