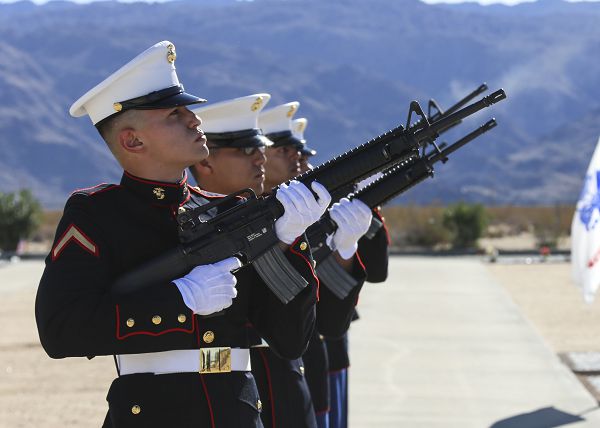 Twentynine Palms, California. (May 23, 2023): In this photo by Lance Corporal Isaac Cantrell, Marines render a rifle salute at the funeral ceremony of retired Sergeant Major Ray V. Wilburn to honor his 32 years of honorable and faithful service to the United States Marine Corps. SGM Wilburn took part in World War II, the Korean War, and the Viet Nam War.
America has rendered military honors for veterans like these since the founding of the Republic. This ceremony typically involves two or more uniformed service members folding and presenting a U.S. burial flag to the family and the playing of Taps. A three-volley gun salute by a rifle squad is reserved for veterans who were either retired from military service, service members killed on active duty, or Medal of Honor recipients.
The veteran's casket is draped with an American flag to honor the memory of their service to their country. The ceremonial folding and presentation of that flag is a moving tribute for a veteran's family and friends and is followed by the playing of Taps.
A properly proportioned flag will fold thirteen times on the triangles, representing the thirteen original colonies. The folded flag is emblematic of the tricorn hat worn by the patriots of the American Revolution. It is then presented as a keepsake to the next of kin or a close friend or associate of the deceased veteran if there is no next of kin.
The presentation of the flag includes these words of sympathy from the American people:
"On behalf of the President of the United States, [the United States Army, the United States Marine Corps, the United States Navy or the United States Air Force] and a grateful nation, please accept this flag as a symbol of our appreciation for your loved one's honorable and faithful service."
After the presentation, a ceremonial bugler plays Taps, our nation's official "National Song of Military Remembrance" since 1874.
Finally, if appropriate, a gun salute by a rifle squad fires three volleys over the grave of the fallen warrior, a tradition tied to the custom of halting the fighting to remove the dead from the battlefield. Once the dead were removed, three-musket volleys were fired as a signal that the battle could resume.
Typically, the three fired cartridges are placed into the folded flag prior to presentation to the family or next of kin; the cartridges signify "duty, honor, and sacrifice."
It is a time-honored tradition of the U.S. military to extend these courtesies to those who served our nation.