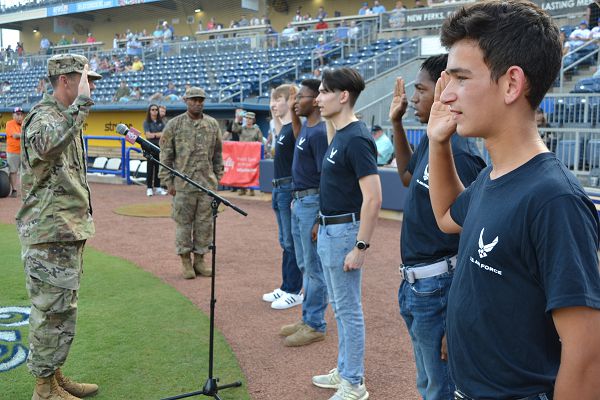 Biloxi, Mississippi. (May 22, 2023): In this photo by Master Sgt. Eric Burks, Colonel Jason Allen, Vice Commander of the 81st Training Wing, administers the oath of enlistment to trainees recruited from the local area at a Biloxi Shuckers baseball game at MGM Park. The trainees are currently in the Delayed Entry Program awaiting their Basic Military Training ship date.
Unfortunately, these fledgling recruits are the exception lately as fewer and fewer young Americans are considering the U.S. military as a career. The trend has caused the Army to miss its recruiting goal by 15,000 active-duty soldiers, or 25 percent, last year. As a result, the Army is cutting its active-duty strength from 476,000 to 466,000 and prospects for next year remain grim. The Army is our nation's largest land force whose missions are increasing in Europe and the Pacific while its workforce is being reduced by as much as 7 percent.
What accounts for the lessening of interest in military service?
First is the economy. Unemployment is low right now which always makes it harder to recruit new talent into our armed forces. The labor market is extremely tight, which has caused the private sector to increase wages and offer generous incentives to attract the best talent. The U.S. military is struggling to compete for the best and brightest. In short, young folks have options and their willingness to consider military service has plummeted from 13 percent before the pandemic to just 9 percent last year.
However, a robust economy tells only part of the story.
The number of young people who are eligible to serve in the military dropped dramatically in recent years from an already paltry 29 percent to a shocking 23 percent — largely due to the effects of the COVID-19 pandemic.
Like many Americans, young people experienced social isolation that have increased rates of depression and anxiety, and other mental health conditions that may preclude military service. Closed schools and missed lessons have caused test scores on the ASVAB, the military's standard entrance examination, to decline by as much as 9 percent.
Finally, youth obesity rates have shot up to 22 percent and this has become the primary reason for disqualification from military service.
So, what can America do to make serving our country "cool" again?
One suggestion is to follow the Army's lead in adopting programs that help prepare soldiers to enter Basic Training. Their Future Soldier Preparatory Course provides academic and fitness coaching to prospective recruits who fall short in certain fitness areas but are otherwise eligible to serve. Last year, more than 92 percent of the participants — almost 3,000 soldiers — successfully graduated into basic training, leading the Army to expand this program considerably in 2023.
Another recommendation by the 2020 National Commission on Military, National, and Public Service is to expand the Junior Reserve Officers' Training Corps (JROTC) program at colleges around the country. The idea is to expose more students to the U.S. military while not obliging them to join right away. This effort has already exposed over 500,000 high school students to the military ethos and the benefits of a career protecting the nation.
One last suggestion is to double the effort at public outreach in every community in the nation. The U.S. military needs to expand its connections between average Americans and the need for national service. Young people today have options, and it is vital to the survival of our all-volunteer force to recruit and retain the brightest and most patriotic of our nation's youth.