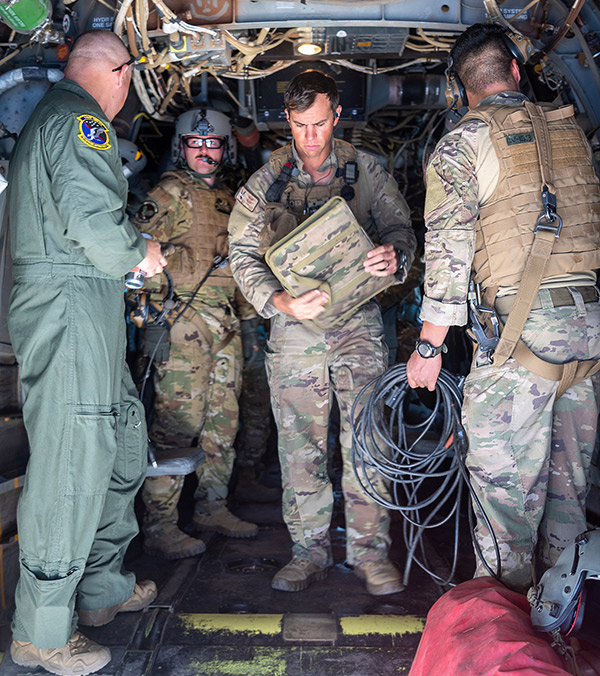 Kirkland Air Force Base, New Mexico. (July 11, 2023): In October 2020, an American citizen was kidnapped in the tiny African nation of Niger. The kidnappers planned to sell the American to terrorist groups operating in neighboring Nigeria. What followed was the longest distance hostage rescue in American military history.
In the above photo by Allen Winston is one of the key players in this drama, Major Kyle Konkolics (center), who received the Distinguished Flying Cross for his heroic actions in the rescue.
Here is how it went down.
Twenty-seven-year-old American Philip Walton was kidnapped in front of his family by seven men armed with AK-47s from his farm in Massalata in southern Niger in the early morning of October 27, 2020, and the kidnappers demanded one million dollars ransom. Three days later, operators from the Naval Special Warfare Development Group, known as SEAL Team Six, conducted a night-time raid that killed six of the seven gunmen and rescued Walton unharmed. The raiding force, consisting of around 30 operators, was inserted into the area via parachute from Air Force Special Operations aircraft. Once on the ground, they moved on foot for about three miles to the site where Walton was held. After a short but intense firefight, Walton was moved to an extraction point, where he and the rescue force were flown out of the area.
Major Konkolics, assigned to the 71st Special Operations Squadron, piloted one of the CV-22 Osprey aircraft over 2,000 miles for 11 hours battling weather, instrument malfunctions, and the challenge of multiple mid-air refuelings to pull off the daring raid. Incredibly, the mission was completed with 48 hours of the call for help.
This was a proud moment for the special operations community and yet another example of the extraordinary courage and skill of America's armed forces. Support Our Troops adds its congratulations to Major Konkolics and the others who risked their lives in this daring military strike.