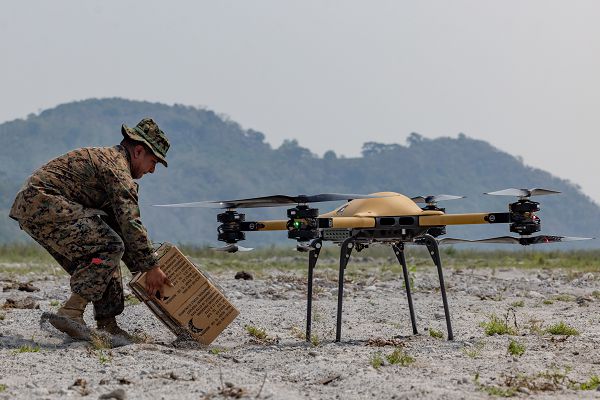 Cerab, Philippines. (July 10, 2023): In this photo by Corporal Tyler Andrews, Corporal Mark Bernal, a landing support specialist with 3rd Marine Littoral Regiment, 3rd Marine Division, receives a package from a TRV-50 Tactical Resupply Unmanned Aircraft System (UAS) as it lands to deliver supplies to Marines participating in Balikatan 2023. This annual exercise helps strengthen ties between the American and Filipino armed forces that have blossomed over years of military cooperation.
The TRV-50 UAS, manufactured by Maryland based Survice Engineering Company, is a quadcopter that uses waypoint navigation based on pre-programmed coordinates to get where it needs to go, and it can transport a 150-pound payload of supplies over nine miles. The TRV-50 is designed to provide rapid and reliable automated distribution of vital supplies to small units operating in the field during wartime. The Marines depend upon this unmanned system to do emergency resupply and to create a constant flow of vital materials to units in rugged terrain quicker and safer than traditional means of transport. In fact, the system is so simple Marines can be trained to operate and perform field-level maintenance on the system in just five days.
This April, the Navy awarded an $8.4 million contract for the production and delivery of 21 TRV-150 Tactical Resupply Unmanned Aircraft Systems and 12 months of systems engineering program management services support. With the advent of drone aircraft like these, the Marines know they will be resupplied when they need it most.