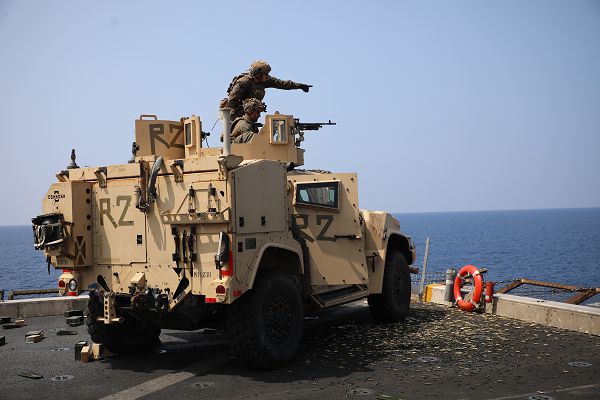 Aboard the USS John Murtha. (July 14, 2023): In this photo by Corporal Quince D. Bisard, Marine Staff Sergeant Gordon Adams points out targets for Corporal Vince Silva, both members of Battalion Landing Team 2/4, 13th Marine Expeditionary Unit as they practice gunnery while at sea. Officially called a "Deck Shoot," Marines must maintain their weapons proficiency while being transported to trouble spots around the world.
The Marines are firing the M240B Machine Gun mounted to a Joint Light Tactical Vehicle that would go ashore during an amphibious assault. The M240B replaces the M60 machine gun, affectionately called the "Pig" by infantry types, that dates to the Viet Nam War.
The M60 was both loved and hated by American troops. It was highly valued for its reliability, but soldiers hated the weapon for its weight and the difficulty of carrying the weapon in dense jungles. The M60 could be fired from the shoulder or on the hip as dramatized in the Hollywood movie Rambo starring Sylvester Stallone. While firing this way made great film, the reality was that it was near impossible to aim accurately and was much more efficient with a two-person crew. Even worse, the M60 had parts that worked loose in the heat and humidity of the jungle which caused what infantry soldiers called a "runaway gun" in combat.
The 240B is configured for ground combat but also has the flexibility to be mounted on ground vehicles, aircraft, and aboard ships and small boats. The 240B has a maximum rate of fire of 950 rounds per minute and has a range of up to 4,000 yards and is now the standard weapon for the Marines and Coast Guard.
Although most of the armed services have switched to the M240, there are still elements that cling to the veritable M60 to this day.