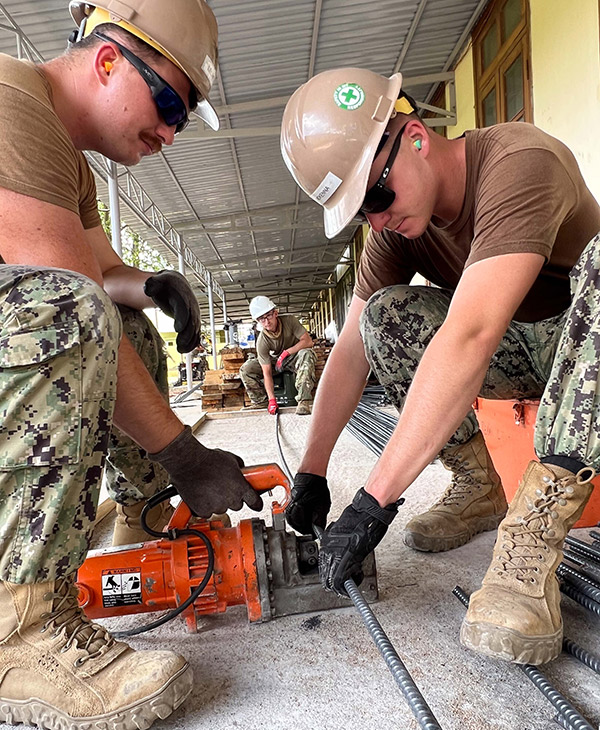 Tuy Hoa, Viet Nam. (July 5, 2023): In this photo by Petty Officer 2nd Class Austin Ingram, Builder 3rd Class Colby Leche (left) and Equipment Operator Aiden McKenna (right), assigned to Naval Mobile Construction Battalion 3, fabricate rebar during a building project during Pacific Partnership 2023. This annual deployment of forces from the U.S. Pacific Fleet is designed to strengthen relationships and security ties with regional governments. American military personnel provide humanitarian, medical, dental, and engineering assistance to host countries while working with local non-governmental agencies and local military.
These deployments were conceived following the devastating 2004 Indian Ocean earthquake and resulting tsunami that killed over 227,000 people in fourteen countries.
The 9.1 magnitude quake was the most powerful ever recorded in Asia generating a tidal wave of over one hundred feet in one of the worst natural disasters in history. The plight of the affected people and countries prompted a worldwide humanitarian response, with donations totaling more than US$14 billion.
Pacific Partnership deployments typically involve amphibious warfare vessels or hospital ships working with local governments to plan for disaster relief and to provide needed humanitarian assistance to participating nations. The goal is to establish common procedures by the region's military, government, and relief organizations to improve response to future national disasters.