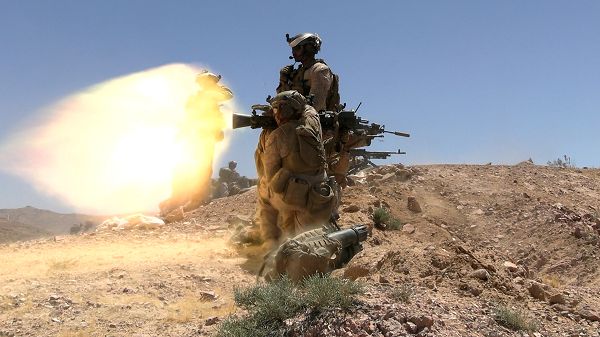 Camp Al-Quawayrah, Jordan. (July 11, 2023): America's armed forces are training in the Middle East this month during Maven 23.4, an annual exercise with the country of Jordan. In this photo by Corporal Keegan Bailey, Marines with 2nd Battalion, 5th Marines fire a Carl-Gustaf Recoilless Rifle alongside the units of Jordanian Sheikh Mohammed bin Zayed Al Nahyan's Rapid Intervention Brigade. This is the fourth joint training with the Jordanian military and involved 450 Marines and Sailors from the U.S. Central Command.
The maneuvers are designed to strengthen partnerships and improve interoperability between forces on weapons and tactics. The highlight of the training was a scenario that simulated a brigade level attack on a village containing terrorist elements. U.S. and Jordanian forces performed isolation and siege operations, combat maneuvers in built-up areas, storming and clearing buildings, and evacuating the injured.
Jordanian armed forces, also known as the "Arab Army," regularly invite U.S. forces to training events like these to share common military concepts and to conduct regional defense planning. Since the signing of the Israel-Jordan peace treaty in 1994, Jordan's armed forces have developed into the most professional in the region and have a reputation for being well-trained, organized, and equipped. The U.S. has a long history of cooperation and friendship with Jordan, with which it established diplomatic relations in 1949.