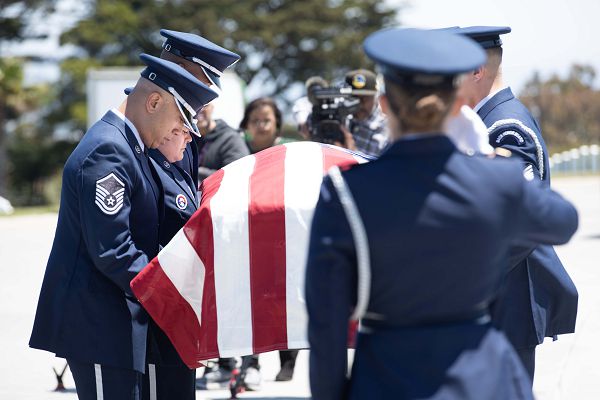 San Bruno, California. (July 21, 2023): America makes a guarantee to every servicemember sent into harm's way… you will not be left behind. Another example of fulfilling this promise happened this week with the funeral of Colonel Ernest L. De Soto, an Airman lost during the Vietnam War. In this photo by Senior Airman Alexander Merchak, Airmen from the 60th Air Mobility Wing Honor Guard render full military honors to Colonel De Soto at Golden Gate National Cemetery in San Bruno, California after his remains were accounted for by the Defense POW/MIA Accounting Agency and returned to his family.
On April 12, 1969, Lt. Col. De Soto was the pilot of a F-4D Phantom II assigned to 390th Tactical Fighter Squadron, 336th Tactical Fighter Wing. De Soto, his navigator Captain Hall and another aircraft were returning from a cancelled strike mission near Quang Nam Province, Vietnam when both aircraft ascended into heavy cloud cover. The lead aircraft noticed De Soto's plane was not in sight and immediately began an aerial search without success. De Soto was promoted to Colonel while in a missing status.
A search and rescue airborne mission were deployed and located De Soto's crash site, there were no signs of the crew; however due to the hostile activity in the area prevented a ground investigation of the site.
In May 1995, a Joint Field Activity team located the crash site in the Giang District, Quang Nam Province and his remains were discovered during a recovery mission in March 2021 and sent to the Defense POW/MIA Accounting Agency (DPAA). The DPAA's mission is to provide the fullest possible accounting for our missing personnel from past conflicts to their families and the nation.
De Soto's name is recorded on the National Vietnam Veterans Memorial in Washington, D.C and a rosette will be placed next to his name to indicate he has been accounted for. Every American servicemember can have confidence that our nation will leave no stone unturned to ensure that "No one is left behind."