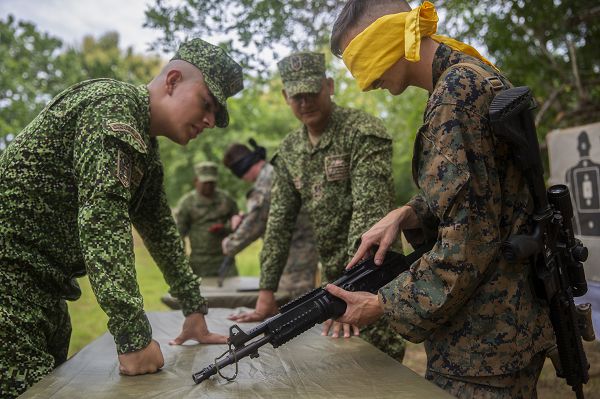 Covenas, Columbia. (July 17, 2023): In this photo by Lance Corporal Samuel Qin, U.S. Marines with Lima Company, 23rd Marine Regiment, Marine Corps Forces Reserve race to assemble and disassemble the Columbia Army's standard issue weapons while participating in UNITAS LXIV, the longest running multinational maritime exercise that brings together forces from twenty partner nations. Under the guidance of Columbian instructors, the Marines familiarized themselves with various rifles with the blindfold adding an extra challenge.
The U.S. and Columbia have a long history of military cooperation in counterterrorism, drug interdiction, and counterinsurgency matters. The U.S. currently maintains seven existing bases in Colombia including two naval bases at Cartagena and Tolemaida, three air force bases located in Malambo, Palanquero, and Apiay and two more army bases at Larandia and Tolemaida. In addition to rotating military exercises, there are about 200 U.S. personnel stationed at three radar sites around the country to monitor suspected drug flights. The Columbia Army, with over 361,420 active personnel as of 2020, is the largest and oldest service branch in Colombia and the third largest army in the Americas.
This year's exercise included military personnel from Belize, Brazil, Canada, Chile, Dominican Republic, Ecuador, France, Germany, Honduras, Jamaica, Mexico, Panama, Paraguay, Peru, Spain, South Korea, United Kingdom, Uruguay, and the United States. The exercise focuses on enhancing interoperability among multiple nations and joint forces during amphibious operations to build on existing regional partnerships and create new enduring relationships that promote peace and stability in South America.