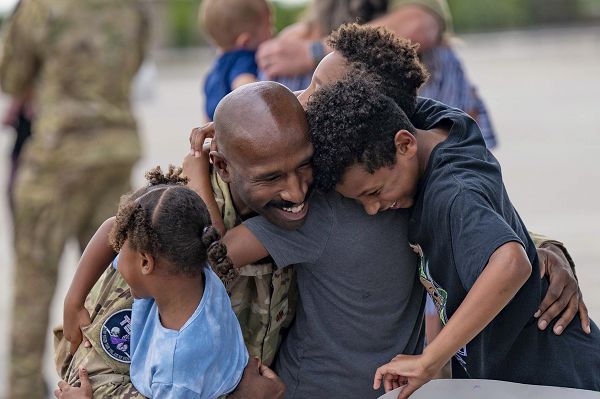 Patrick Air Force Base, Florida. (July 7, 2023): Few homecomings are as joyous as those of servicemembers returning to their families after a long deployment. In this photo by Senior Airman Dakota Raub, Combat Rescue Airmen with 920th Rescue Wing return from deployment and are reunited with their family and friends.
The 920th Rescue Squadron is America's premier combat search and rescue unit with over 2,500 airmen trained and equipped to locate and recover U.S. personnel in military operations. Additional missions include supporting NASA crewed flights by providing rescue support during water landings and they also rescue civilians in distress or lost at sea. The 920th plays a major role during disasters and in American humanitarian relief efforts around the world.
Air Force Pararescue are America's elite combat forces specifically organized, trained, equipped, and postured to conduct full spectrum Personnel Recovery. These Battlefield Airmen execute the most perilous, demanding, and extreme rescue missions anytime, anywhere across the globe. Whether shot down or isolated behind enemy lines; surrounded, engaged, wounded, or captured by the enemy; Pararescue forces will do whatever is required to deny the enemy a victory and bring our warriors home to fight another day.
Support Our Troops is proud to provide the courageous servicemembers with "what they need, where they need it" while they are deployed around the world. You can do your part by joining our Patriot Brigade®, a non-profit charity that funds care packages and recreation/leisure activities for our overseas deployed servicemembers. Please go to our secure website https://supportourtroops.org/donate to make monthly contributions to the welfare of active-duty troops serving our nation around the world.