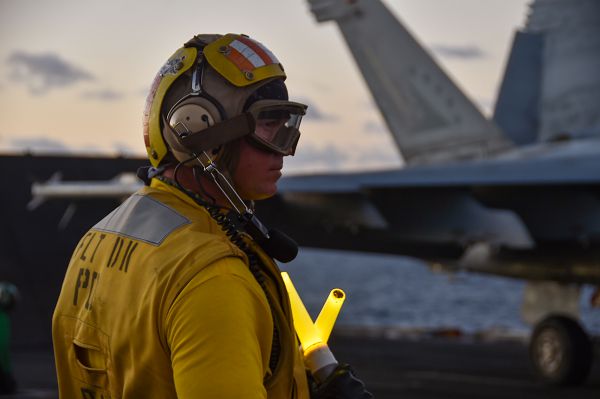 INDIAN OCEAN (July 19, 2023): In this photo by MC3 Natasha Chevalier-Losada, Aviation Boatswain's Mate (Aircraft Handling) 1st Class Jarred Scifert, from Monticello, Indiana, directs aircraft on the flight deck aboard the U.S. Navy's only forward-deployed aircraft carrier, USS Ronald Reagan in the Indian Ocean. The Ronald Reagan is the flagship of Carrier Strike Group 5, a combat-ready force that protects and defends the United States in the Indo Pacific region.
Aviation Boatswain's Mate (Aircraft Handling) is one of the most important roles in naval aviation and is responsible for helping launch and recover aircraft quickly and safely aboard ships at sea. Their duties also include firefighting, salvage, and rescue operations.
Aircraft handlers work outdoors on the deck of aircraft carriers that launch aircraft every 20 seconds in all climatic conditions in fast-paced and often potentially hazardous environments. They are called the "salt of the deck" by pilots as they supervise the safe movement of aircraft on busy flight decks in all-weather day and night. In the event of a crash, the Aircraft Handlers help rescue personnel, perform firefighting duties, and do debris removal.
To become a Navy Aircraft Handler, a candidate must pass ten weeks of Basic Recruit Training at Great Lakes, Michigan and then complete four weeks specialized training at Pensacola, Florida. Upon graduation, the Boatswain's Mate (Aircraft Handling) may be assigned to an aircraft carrier or other types of ships with airplanes or helicopters.