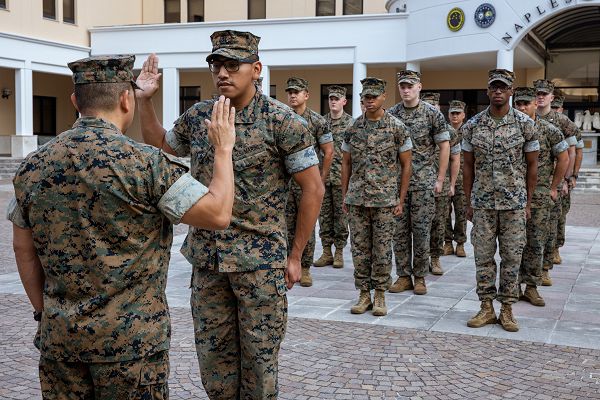 Naples, Italy. (July 20, 2023): In this photo by Lance Corporal Jack Labrador, U.S. Marine Corps Corporal Eduardo Garcia, Data System Administrator, 2nd Marine Expeditionary Brigade, recites the Oath of Enlistment during his reenlistment ceremony under the under the Commandant's Retention Program (CRP) at Naval Support Site Naples, Italy. The CRP expedites the reenlistment process for selected Marines and offers them meaningful incentives to reenlist, such as assignment prioritization, to help retain the most talented first term marines.The overall military retention rate for the US is 55% with the Army having the highest overall attrition rate and the Marine Corps having the lowest. According to data from the Defense Manpower Data Center, the reenlistment rates for the four US military branches in Fiscal Year 2021 were as follows:
United States Air Force: 66.8%
United States Navy: 59.6%
United States Coast Guard: 59.1%
United States Marine Corps: 56.2%
United States Army: 48.3%
One factor having a significant impact on retention is the number of deployments servicemembers are asked to make.
For Marines with dependents, the reenlistment rate is just under 40 percent for those with 1 to 100 deployed days and the rate falls to just over 30 percent for those with 401 or more days deployed. For Marines without dependents, however, the drop in the reenlistment rate as deployed days increase is much sharper.The Coast Guard touts some of the highest retention rates in the military while the Army's attrition has been highest. All our military branches have plans to either increase reenlistment bonuses or to offer choice of duty assignment as incentives to stay on the team.