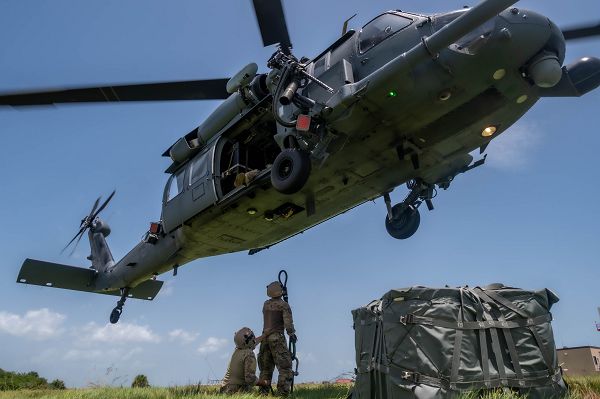 Patrick Air Force Base, Florida. (August 8, 2023): In this photo by Staff Sergeant Darius Sostre-Miroir, Staff Sergeant Paul Bartholdson and Technical Sergeant Nathan Edwards, Rescue Riggers with the 920th Logistics Readiness Squadron, prepare to attach a reach pendant underneath a HH-60G Pave Hawk helicopter during sling load training. A sling load is used to transport a variety of cargo to remote, austere locations while suspended beneath the versatile Pave Hawk.
In 1981, the Air Force chose the Pave Hawk to replace the legendary Jolly Green Giant, the Air Force's workhorse helicopter since the 1960s. Manufactured by Sikorski Aircraft, the Pave Hawk is a four blade, twin engine, medium lift chopper used primarily by special operations troops. Its missions include the insertion and recovery of special operations troops, combat search and rescue, and resupply of forces by air. They take on the most secretive and dangerous missions for the U.S. military.
The "Pave" is an upgraded communications and navigation suite that includes integrated inertial navigation/global positioning/Doppler navigation systems, satellite communications, and secure voice communications. The system allows the Pave Hawk to operate day or night and under severe weather conditions making it ideal for civil search and rescue and aeromedical evacuation.
The 920th Logistics Readiness Squadron provides supply, fuels, and transportation for warfighters preparing for deployment worldwide. The Squadron is comprised of Airmen who specialize in deployment planning, supply chain operations, and transportation management.