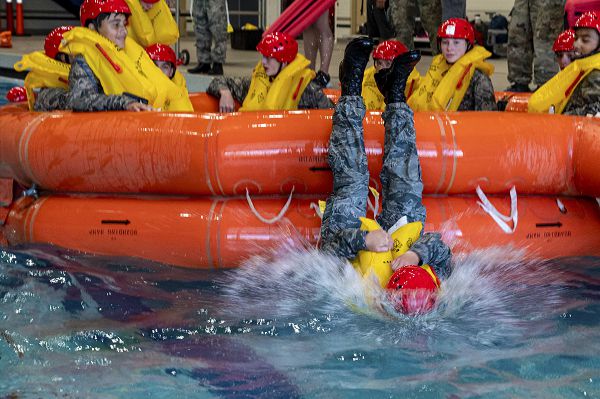 Fairchild Air Force Base, Washington. (August 3, 2023): In this photo by Staff Sergeant David Phaff, Airmen from the 22nd Training Squadron teach water survival techniques to local Civil Air Patrol Cadets who came to learn to survive in austere environments. These brave young souls, some only 12 years old, volunteer their time and energy learning leadership, physical fitness, and character development in the Civil Air Patrol (CAP). The CAP is the official civilian auxiliary of the U.S. Air Force with stations in eight geographic regions including Puerto Rico and the District of Columbia.
Each year, the CAP attracts over 23,000 members ages 12 through 20 to its cadet programs that focus on four areas — leadership, aerospace, physical fitness, and character development.
Members must have a sincere interest in learning about aviation and the military and a desire to develop leadership skills in this year-round youth program.
Cadets receive recognition for their patriotic service, free training, uniforms, and may attend International Exchange Programs and local conferences.
This was no summer camp, however. In this case, the Cadets drew some of the most demanding training in the U.S. Armed Forces, taught by grizzled veterans twice their age. The 22nd Training Squadron's Survival, Evasion, Resistance, and Escape or SERE Course teaches survival skills, evading capture, application of the military code of conduct, and techniques to escape from captivity.