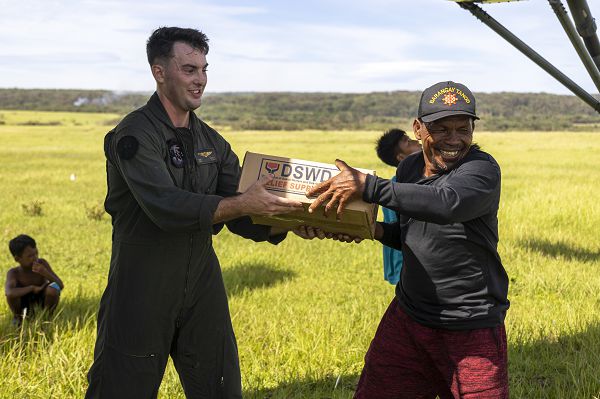 Fuga Island, Philippines. (August 7, 2023): In this photo by Sergeant Sean Potter, Corporal Daniel Lauer, a crew chief with Marine Medium Tiltrotor Squadron 163, Marine Aircraft Group 16, 3rd Marine Aircraft Wing passes emergency relief supplies to a Filipino citizen victimized by Typhoon Doksuri that struck the island causing widespread damage. At the request of the Philippine Armed Forces, the Marines fanned out across the island to provide lifesaving capabilities to local communities. During the three-day relief effort, the Marines delivered over 64,000 pounds of food and water to remote areas hardest hit by the storm.
Typhoon Doksuri made a direct hit on the Philippines, Taiwan, and China that killed eighty-seven people and injured 204 others while leaving behind a trail of catastrophic damage. Flooding was reported in nine out of seventeen regions affecting two million residents and causing over 300,000 to evacuate.
The Marines are often called upon to help in natural disasters due to their unique capacity to deliver vital relief supplies by sea and air. Their role as an amphibious force enables the Marines to use their shallow water vessels, helicopters, and tiltrotor aircraft to reach remote areas quickly in an emergency. Americans can be justly proud of our Marines using their skills to save countless lives around the world.