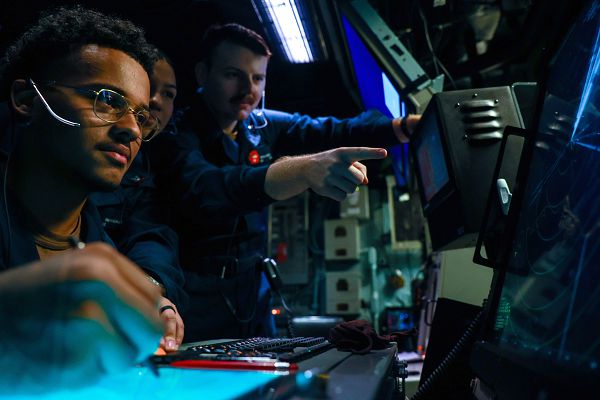 Mediterranean Sea. (Aug. 5, 2023): In this photo by MC3 Riley Gasdia, Sailors assigned to Tactical Air Control Squadron 21 track the movement of aircraft within the vicinity of the Wasp-class amphibious assault ship USS Bataan. Bataan and the Harpers Ferry-class dock landing ship USS Carter Hall are on a scheduled deployment to the U.S. 5th and U.S. 6th Fleet areas of responsibility. A Tactical Air Control Squadron (TACRON) establishes centralized control, coordination, and integration of air operations aboard warships during amphibious warfare. TACRON 21 deploys its detachments with amphibious squadrons to amphibious readiness groups around the world.
The concept of tactical air control was born during the British/German air wars in the initial stages of World War II. The Americans adopted the idea for use in its Pacific campaign against the Japanese and later in campaigns across Africa. As a result of these experiences, a concerted effort was made to set up and train several groups of personnel as Air Support Parties to guide combat aircraft.
As the Pacific war progressed, planners anticipated more naval landings combined with air assaults that would require one commander to coordinate the entire amphibious operation. Subsequent amphibious landings on Tarawa, Iwo Jima, and Okinawa saw the formation of teams of air controllers assigned to amphibious flagships to coordinate air and sea power and the Tactical Air Squadron was born.
Today, there are twenty-four Air Support Control Units, with a combined total of 2,328 officers enlisted, with four active-duty squadrons serving the Atlantic and Pacific Fleets.
Units like Tactical Air Control Squadron 21 are key to the success of amphibious landings by America's expeditionary forces.