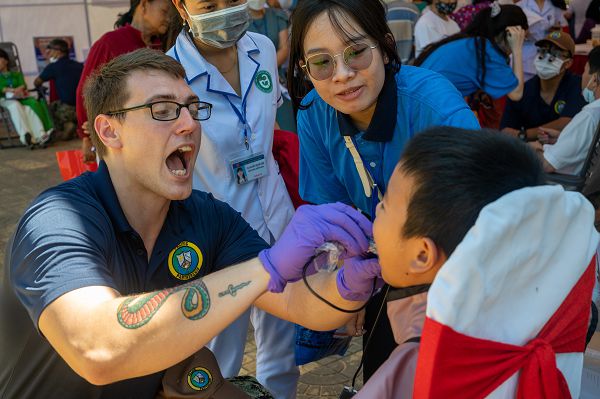 Tuy Hoa, Vietnam. (Aug. 10, 2023):We Americans are justly proud of our armed forces for its military prowess, but most do not realize the fantastic humanitarian work it does around the world. In this photo by Ensign Madison Kwok, Hospital Corpsman 2nd Class Logan Richardson prepares a dental x-ray for a Vietnamese patient at the Phu Yen General Hospital health fair during Pacific Partnership 2023. Now in its 18th year, Pacific Partnership is the largest annual multinational humanitarian assistance and disaster relief preparedness mission conducted in the Indo-Pacific.
This is the twelfth visit to Vietnam by U.S. forces along with Australia, Chile, Japan, the Republic of Korea, and the United Kingdom. During the five-month mission, 1500 personnel collaborated with local authorities on civic action preparedness in the field of engineering, disaster response, public health, and local host nation outreach.
addition to routine medical care, the U.S. team joined with Phu Yen General Hospital staff to perform hip and knee replacement operations for Vietnamese citizens at no cost. American engineers constructed a new building for Hoa Dinh Tay Primary School and renovated several other primary schools for local children.
This incredible humanitarian work gives servicemembers a chance to show their softer side, and the world to see the human side of the American people.