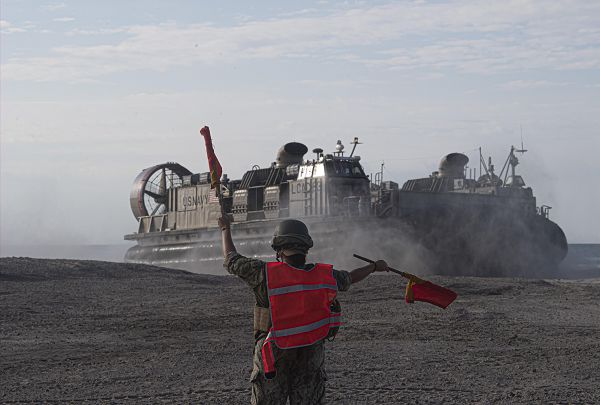 Camp Lejeune, North Carolina. (Aug. 9, 2023): In this photo by MC1 William Bennett IV, Boatswain's Mate 3rd Class Katrina Estevez, assigned to Beachmaster Unit 2, directs a Landing Craft, Air Cushion (LCAC) assault craft participating in U.S. Fleet Forces Command's Large-Scale Exercise 2023. These massive landing craft, built by Textron Marine Systems, can transport up to seventy-five tons of personnel and equipment directly onto the beach during an amphibious landing rather than unloading in shallow water. The LCAC has a crew of five and is powered by four gas turbine engines that can speed up to fifty miles per hour to the shore.
Ironically, this technical marvel traces its roots to Japanese landing boat designs "borrowed" by the Americans just before the start of World War II. In 1939, the Japanese led the world in landing craft with its advanced Daihatsu design. Unlike American boats at the time, the Daihatsu had droppable front ramps that enabled troops to quickly disembark from the bow, rather than having to clamber over the sides and splash into the surf.
This clever innovation was spotted by Lieutenant Victor Harold Krulak, a Marine intelligence officer who witnessed the Japanese using the Daihatsu in action during the invasion of China. Krulak teamed up with New Orleans boat builder Andrew Higgins to create a new bow design for thousands of "Higgins" landing craft used for troop landings during World War II.
Higgins Boats changed the way modern war was fought. Traditional naval strategy called for attacks on enemy ports which were often extremely well defended. With the advent of the Higgins boat, navies could go ashore virtually anywhere and unload on an open beach. Instead of focusing on defending its ports, the enemy now had to guard the entire shoreline. America produced over 20,000 Higgins boats to transport troops in both the Pacific and European Theaters of World War II. In a final irony, the LCAC has been in use by the Japan Maritime Self-Defense Force since 1994.