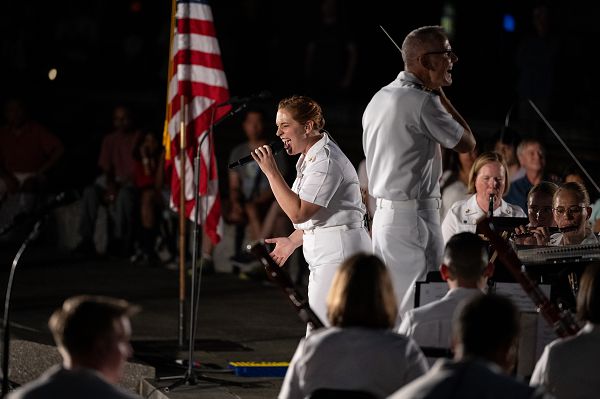 Washington, D.C. (Aug. 8, 2023): In this photo by Master Chief Musician Adam Grimm, Musician 1st Class Michaela Swan, from Rochester, New York, performs with the U.S. Navy Band at the U.S. Navy Memorial in Washington. The Navy Band performed at the Navy Memorial as part of its annual Concert on the Avenue series, telling the Navy story through a mix of popular songs and patriotic music.
One of our nation's oldest traditions, the United States Navy Band is based at the Washington Navy Yard and has served as the official musical organization of the U.S. Navy since 1925. The band serves the ceremonial needs at the seat of U.S. government, performing at presidential inaugurations, state arrival ceremonies, state funerals, state dinners, and other significant events. The band performs a broad range of music, including ceremonial ruffles and flourishes, classical, rock, jazz, and country.
The earliest music aboard United States Navy ships was the Shantyman's songs, melodies of the sea that helped soften the hard edge of shipboard life. From these humble songs followed trumpeters, drummers, and fifers who were carried on the early frigates to sound calls, give general orders, and perform at funerals and other ceremonies. Military bands became a separate section of the crew on many Navy vessels.
President Calvin Coolidge signed into law a 1925 bill stating "hereafter the band now stationed at the Navy Yard, known as the Navy Yard Band, shall be designated as the United States Navy Band." The legislation also allowed the band to take its first national tour in 1925.
Their performance at the Navy Memorial is part of an annual tribute to "honor, recognize, and celebrate the men and women of the Sea services, past, present, and future."