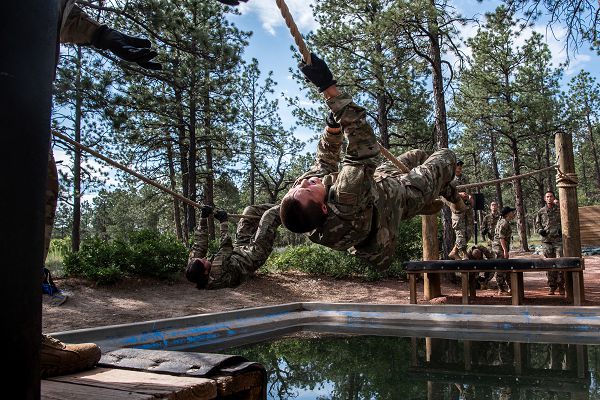 Colorado Springs, Colorado. (August 12, 2023): Bursting with youthful exuberance, Air force Basic Cadet Trainees endure a rite of passage during Basic Cadet Training. In this photo by Rayna Grace, Basic Cadets from the Class of 2027 complete the obstacle course at the U.S. Air Force Academy's Jacks Valley training area in Colorado Springs, Colorado. Basic Cadet Training is a six-week indoctrination program to guide the transformation of new cadets from being civilians to military academy cadets prepared to enter a four-year officer commissioning program.
The Class of 2027 has 130 cadets who are 70 percent men and thirty percent women with one third racial minorities. They are a smart bunch with 53 percent finishing in the top ten in their high school graduating class.
These young cadets endure a two-phase program that pushes them to their mental and physical limits. The first phase of Basic, called life "On the Hill" , is especially difficult for these newcomers as they make the transition from civilian to military life. Physical exercise begins at dawn and continues throughout each day, before and after breakfast, lunch, and dinner.
The second phase takes place at "Jack's Valley" training area and features outdoor challenges such as the assault course, obstacle courses, and a leadership course. Cadets hone their physical endurance, emotional stability, self-reliance, and individual initiative as they prepare to enter the U.S. Air Force Academy.
Upon graduation, the Class of 2027 will march in parade formation and receive their fourth-class shoulder boards, signifying their acceptance into the cadet wing and the beginning of their academic careers.