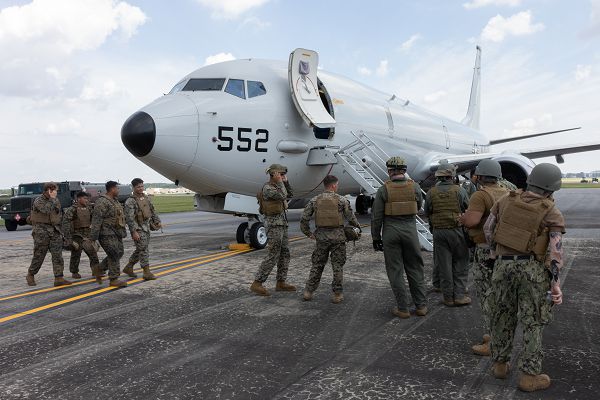 Seymour Johnson Air Force Base, North Carolina. (September 1, 2023): In this photo by Lance Corporal Anakin Smith, Marines with Marine Wing Support Squadron 272 and Sailors assigned to Navy Cargo Handling Battalion 1 conduct forward refueling-point familiarization with a U.S. Navy P-8A Poseidon reconnaissance aircraft during Large Scale Exercise 2023. This annual event is designed to refine how we synchronize maritime operations across multiple fleets when operating as a joint force at sea. The training is based on a progression of scenarios to assess and refine modern warfare tactics and concepts. Marine Wing Support Squadron 272, based at Marine Corps Air Station New River, provides all manner of aviation ground support for air wings on land and at sea. Nicknamed the "Untouchables," the 272nd does ground refueling, aircraft recovery, expeditionary airfield services, and even does its own weather forecasting. In addition, the wing provides engineering, mess facilities, airfield communications, and security for remote airfields or temporary locations ashore.
The Sailors assigned to Navy Cargo Handling Battalion 1 are experts at expeditionary logistics for Marine Air Wings much as they did during World War II as "stevedores" or special construction battalions.
These units are taking part in an enormous experiment of sorts involving multiple aircraft carriers and amphibious readiness groups battling it out in both the real and virtual worlds. For years, Navy doctrine centered on keeping carrier and amphibious strike groups in tight formations as they needed to be in close proximity to be effective. The advent of drone technology and the need to operate at greater distances has caused naval leaders to evaluate new operational theories to adapt to this new reality.
Large Scale Exercise 2023 is a part real, part virtual training event involving 25,000 Sailors and Marines from the U.S. Pacific Fleet and Naval Forces Europe-Africa. The exercise pitted twenty-five live and fifty virtual ships against each other in various realistic scenarios that simulate how they will fight the next war. To add to the realism, no advanced notice was given to crews who found themselves "fighting with what they have" as they would in an actual war. The Marine's tested their ability to put forces ashore to defend maritime choke points and novel tactics were developed like deploying anti-ship missiles ashore to attack ships at sea.
Over nine days, the exercise evolved into a world-wide web of ships and unmanned sea and aerial vehicles operating hundreds of miles from one another yet able to simultaneously fire at targets from all directions. Exercises like these will ensure the U.S. Navy is prepared for this new brand of warfare should it come.