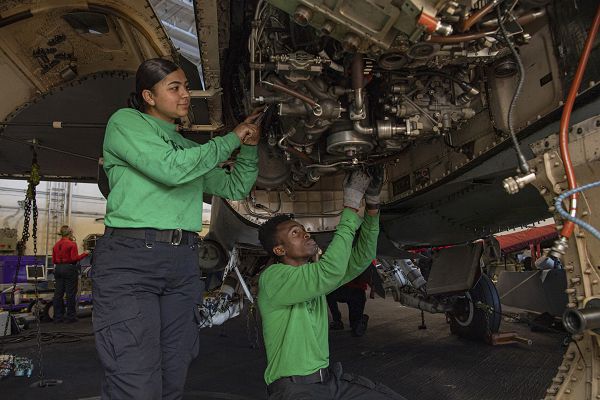 Pacific Ocean. (August 31, 2023): In this photo by Seaman Tomas Valdes, Aviation Machinist's Mate 2nd Class Ashley Miranda, left, from Cocoa Beach, Florida, and Aviation Machinist's Mate Airman Jan Michael Simmonds, from Baltimore, Maryland, remove an engine from an F/A-18F Super Hornet aboard the aircraft carrier USS Nimitz.
Navy machinists are the unsung heroes of America's mighty carriers. Their skill and perseverance keep the aircraft wings flying. These engine mechanics inspect, adjust, test and repair aircraft engines and propellers under brutal, around the clock operations matching the tempo of the air wings. They also install, maintain, and service aircraft engines of many types including their unique gear boxes and related fuel and lubrication systems. They evaluate engines for degradation using various test equipment and repair propellers and other types of damage in real time.
Machinists may be assigned to shore duty hangars or on flight decks at sea anywhere in the world so work environments vary considerably. To become a Navy Machinist, students attend a 9-week school at Groton, Connecticut where they learn mechanical systems and theory, tools and instruments, and safety precautions.
In the civilian world, machinists can earn from forty thousand to a six-figure salary depending upon experience. Not bad for a job requiring only a high school diploma.