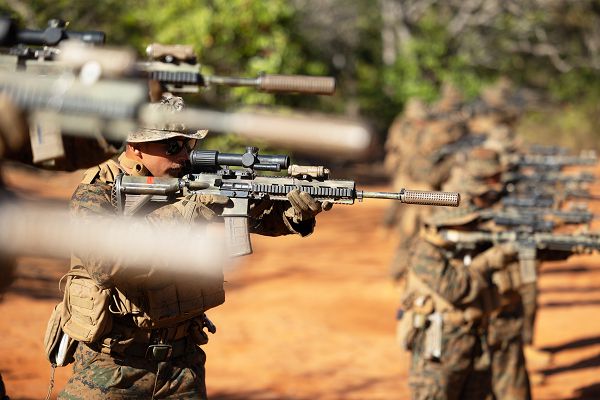 Formosa, Brazil. (August 29, 2023): In this photo by Gunnery Sergeant Daniel Wetzel, Corporal Justin Goupil with Echo Company, 2nd Battalion, 5th Marine Regiment leads reloading drills with Brazilian Marines during Exercise Formosa held here this week. The Brazilian Marines, or in Portuguese Corpo de Fuzileiros Navais, joined the Americans in jungle warfare training, expert subject matter exchanges, and shared valuable insights on tactics and strategy. The Formosa event was held at Brazil's premier expeditionary military training facilities and included participants from Germany, South Africa, and France.
The goal of the training was to improve interoperability between forces and to hone combat skills by operating in various terrains and scenarios. Brazil is a massive country of over 3.2 million square miles with 4,600 miles of coastline. The terrain can vary from the steamy jungles of the Amazon to freezing mountain tops which presents unique challenges for infantry units. The Marines participated in realistic combat maneuvers including live firing their M240G medium machine guns and practicing amphibious assaults with their Brazilian comrades. The Americans were also treated to a new multi-part cognitive course designed by the Brazilian Marine Corps.
With about 15,000 men, the Brazilian armed forces specialize in naval power and the use of helicopters and landing craft in amphibious operations. Through mutual understanding and shared interests, both nations have recognized the importance of cooperating to address common threats, such as organized crime, terrorism and safeguarding maritime security.