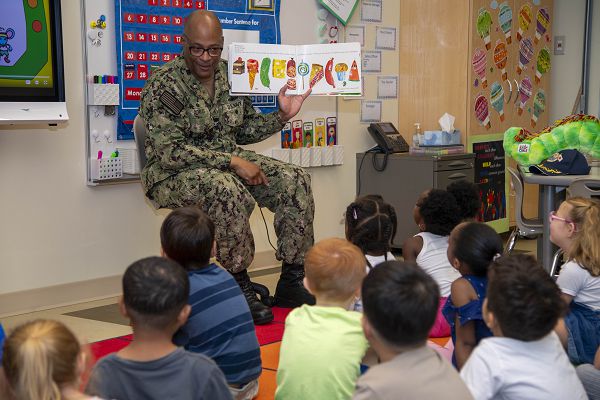 Sasebo, Japan (September 5, 2023): Shortly after the end of World War II, the U.S. military found itself with bases all over the world that would need to be staffed by thousands of troops and their families for the near future. This led to the establishment of a federal school system for the children of servicemembers stationed in Europe and the Pacific. Schools for children of military members stationed at various bases in the United States were already well-established.
In this photo by MC1 Jeremy Graham, Captain David Adams, commander of Fleet Activities Sasebo, reads to children at Sasebo Elementary School. The elementary school is part of the Department of Defense Education Activity Pacific East District and serves students from Sure Start to fifth grade. Schools like this are run by the Department of Defense Education Activity (DoDEA), headquartered in Alexandria, Virginia, which is responsible for planning, directing, coordinating, and managing prekindergarten through 12th grade educational programs for the Department of Defense (DoD).
DoDEA operates 163 accredited schools in eight districts located in eleven foreign countries, seven states, Guam, and Puerto Rico. The school system has 15,000 employees serving over 71,000 military kids of active-duty military and civilians worldwide.
Currently 100% of DoDEA schools are accredited and in good standing with their regional accrediting agency and its students consistently achieve high scores in the National Assessment of Educational Progress. They score above the national average on standardized assessments and minority students have been especially successful, scoring at or near the highest in the United States in mathematics.
In 2001, the Government Accountability Office (GAO) reported that the academic achievement of DOD students, as measured by their performance on standardized tests, generally exceeds that of civilian elementary and secondary students nationwide. On college admission tests, DOD students score at or near national averages.
Thanks to the diligent professionals of the DoDEA, Americans can be assured the children of our nation's servicemembers receive the highest quality education possible. (Note: It helps when the unit commander pitches in as well!)