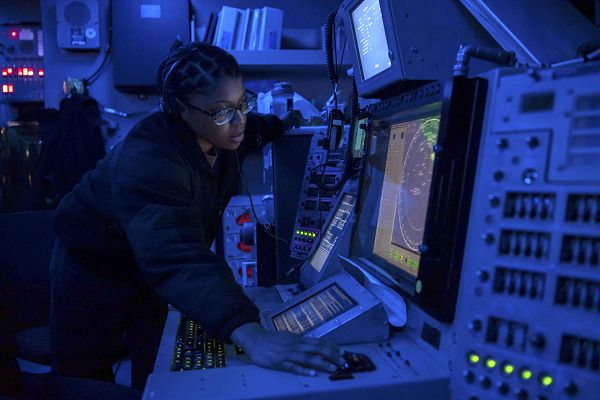 Pacific Ocean. (September 7, 2023): They are the brains of the nerve center of American warships, the Combat Information Center or CIC, and they perform the most sensitive and vital duties in the Navy. In this photo by MC3 Brittney Camacho-Pietri, Operations Specialist 2nd Class Tenisha Clayton, from Roxboro, N.C., stands watch in the CIC aboard the aircraft carrier USS Nimitz while underway in the Pacific. The Operations Specialists are responsible for the organized collection, processing, display, evaluation, and dissemination of combat information to command-and-control stations. The information they transmit is used by commanders at all levels to make sound tactical decisions.
The CIC is the most top-secret location aboard and Operations Specialists must meet stringent security clearance requirements and earn the trust of their commanders. These technicians are at the heartbeat of ships operations, developing a complete picture of all assets in the area while tracking potential targets, recording their movements, and using complex radars to give commanders a strategic advantage.
They are trusted advisors on shipboard warfare operations and navigation, and experts at interpreting and evaluating radar presentations and tactical situations. The safety of the entire ship often depends upon how skilled these professionals are at spotting dangers to the fleet.
To become an Operations Specialist, recruits must have a high school diploma, be a U.S. citizen, and pass a rigorous background check to obtain an advanced security clearance. After Boot Camp, students attend a 10-week course at Class "A" Technical School in Great Lakes, Illinois. Here they learn course plotting, radar operations, and how to detect, track, and evaluate potential enemy targets. Students then study how to interpret these readings for use by combat commanders. Upon graduation, Operations Specialists can expect to be posted to warships operating around the globe.