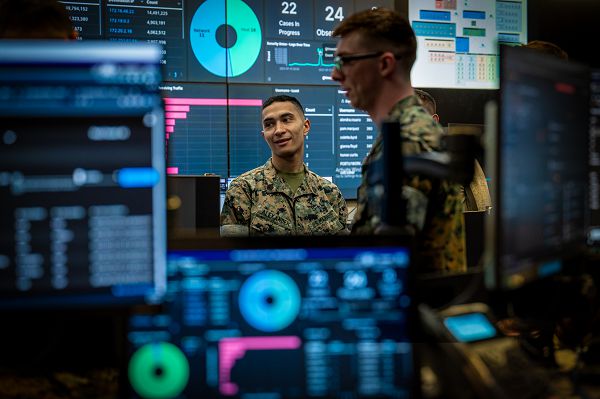 Undisclosed Location. (September 7, 2023): They do not storm beaches, but these Marines play a vital role defending the nation from attacks on the new frontier of Cyberspace. In this photo by Corporal Brian Stippey, Marines and their civilian counterparts with the Marine Corps Cyberspace Warfare Group compete in Cyber Flag 23-2, an annual defensive exercise that provides realistic "hands-on-keyboard training" against the activities of malicious cyber actors in the virtual world.
Also participating in Cyber Flag were the U.S. Army Cyber Command, Navy Fleet Cyber Command, and more than 250 computer professionals from eight different nations. International partners included teams from Australia, France, Japan, New Zealand, Republic of Korea, Singapore, the United Kingdom.
Cyberwarfare is defined as a set of actions by a nation or criminal organization to attack a nation's network systems to disrupt, damage, or destroy infrastructure. These bad actors also launch "denial of service" attacks against computer networks or plant viruses, trojans, spyware, and worms into existing software. Here they hide, undetected, until their assault is launched.
These "cyberweapons" conduct attacks that would normally require a soldier or a spy and would be considered an act of war if done by a human agent. These network breaches are deliberate attempts to violate the privacy and sovereignty of American defense computer networks and can cause catastrophic harm to our national security.
During the week-long exercise, Cyber Flag participants were split into teams, called cells, and designated as "red" attackers or "blue" defenders in a series of simulated attacks on Marine Corps networks. The defensive teams work independently to detect, identify, and mitigate any adversarial presence or activities on their respective networks. Because the training scenario is adaptive, teams needed to collaborate and use creative solutions to advance their defensive measures.
Since Cyber does not recognize geographic borders, collaboration among international allies is essential. The Marines also coordinate their anti-cyber operations with the other military branches and civilian authorities. As the world's reliance on digital technology explodes, so does the need to protect the nation in cyberspace with exercises like Cyber Flag.