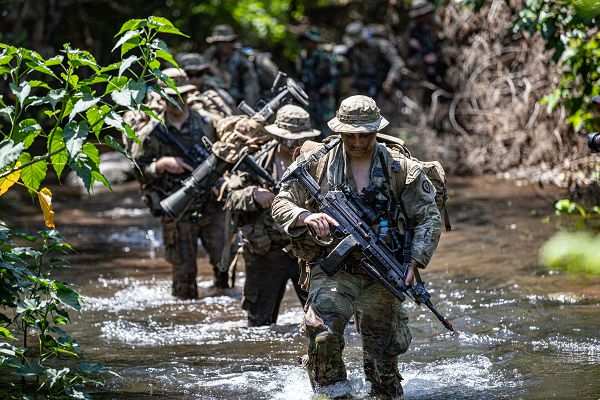 Puslatpur, Indonesia. (September 4, 2023): In this photo by Sergeant First Class Austin Berner, soldiers assigned to 2nd Platoon, Berzoi Company, 2nd Brigade, 25th Infantry Division join members of the Indonesian military as they cross a river obstacle during Exercise Super Garuda Shield.
Super Garuda Shield 2023 is an annual exercise that has significantly grown in scope and size since 2009 and now includes 7 participating and twelve observing nations in a partnership for a free and open Indo-Pacific.
This renewed sense of urgency is due to China's increasingly aggressive air and naval activity in the South China Sea. As the largest archipelago in the world, Indonesia lies at the apex in the rivalry between China and the West and is strategically located astride the major sea lanes connecting the Indian and Pacific Oceans.
Although Indonesia and China have generally cordial relations, increased activity of Chinese Coast Guard vessels and fishing boats in the region has alarmed officials in Jakarta. China has lodged territorial demands and ignored international law by encroaching on Indonesia's economic zone in the South China Sea. China accuses the U.S. and Indonesia of building an Indo-Pacific "NATO" to contain their world ambitions.
Super Garuda Shield involved 2,100 U.S. soldiers along with 5,000 personnel from the United Kingdom and France. American troops held cultural exchanges with their Indonesian hosts to develop deeper understanding and cohesion between forces. The two-week exercise included live fire drills, command-and-control simulations, and an amphibious landing. Airborne troops practiced an airfield seizure with Indonesian paratroopers and participated in multiple international team jumps.
This year's Garuda Shield included participants from Brunei, Brazil, Canada, Germany, India, Malaysia, Netherlands, New Zealand, Papua New Guinea, Philippines, South Korea, and the Democratic Republic of Timor-Leste also sent observers.