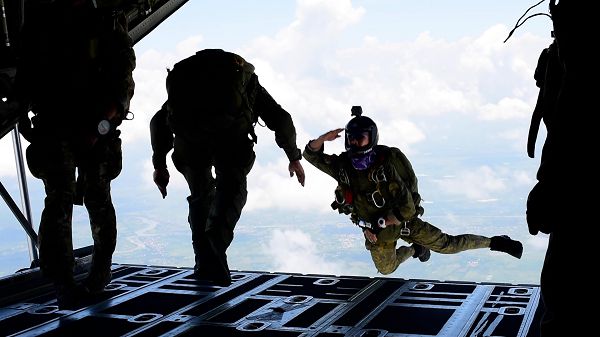 Clark Air Force Base, Philippines. (September 3, 2023): In this photo by Master Sergeant Robert Webb, Airmen assigned to the Philippine Air Force salute the jump master as they bail out of a C-130J transport plane during Pacific Airlift Rally 2023. This annual multinational exercise is in its 14th year with some 780 participants from Japan, Indonesia, Malaysia, Bangladesh, Brunei, Canada, Maldives, Mongolia, Nepal, Singapore, Sri Lanka, and Timor-Leste. This is the largest humanitarian assistance and disaster response exercise of its kind in the Indo-Pacific.
Hosted by the U.S. Pacific Command and the Philippines Air Force, Pacific Rally gave partner nations the chance to practice expeditionary medicine, evacuation procedures, and in-flight emergency response. Airmen focused on container delivery, personnel transport, cargo loading, and low-altitude airdrops.
Two U.S. Air Force 374th Airlift Wing C-130J Super Hercules and associated Airmen from Yokota Air Base, Japan, joined Philippine and Japanese C-130H crews in field training transporting patients in critical condition.
Nations exchanged subject matter experts regarding austere and expeditionary medicine, ground evacuation, in-flight emergency response, and C-130 aircraft maintenance. Planners also conducted tabletop exercises on humanitarian assistance and disaster relief operations.
Large scale exercises like Pacific Rally will ensure the relief forces are primed and ready should a disaster occur.