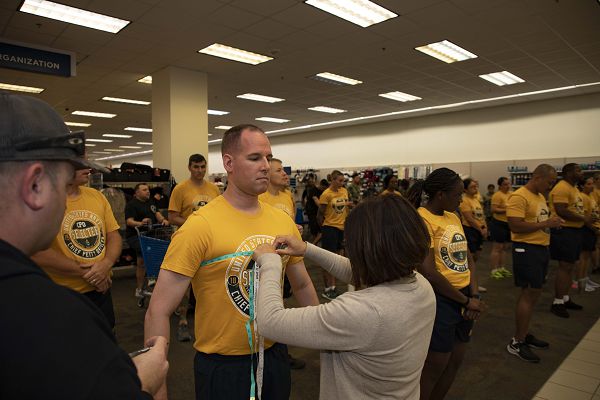 Naval Station Norfolk, Virginia. (September 5, 2023): In this photo by MC2 Levi Decker, Hospital Corpsman 1st Class John Gorey, from Philadelphia, assigned to Naval Medical Forces Atlantic, is measured for his chief petty officer uniform as he joins the ranks of the "backbone of the Navy".
A chief petty officer in the Navy is a senior enlisted member who serves as a leader and mentor to junior sailors. They are responsible for managing and supervising the day-to-day operations of a ship and maintaining discipline within the ranks. In this highly challenging role, they are the vital link between commanders and the rank-and-file. A Chief holds a "rating", or job specialty, and must be pay grade E-7 and above (E-9 is the highest enlisted rank).
Becoming a Chief typically takes around 14-16 years of service advancing through the ranks and meeting the necessary requirements at each promotion. They must also pass a selection process that includes a written exam, a review of their service record, and an interview. Once selected, they will attend the Chief Petty Officer Leader Development Course to familiarize them with their new role as a chief petty officer.
This six-week program prepares students for their increased leadership responsibilities by stressing non-traditional naval topics like self-awareness, counseling, and ethical decision-making.
A chief petty officer in the Navy has a wealth of experience and skills that can be readily transferred to a variety of civilian careers. Some popular options include law enforcement, project management, logistics, and operations management.
America is fortunate to have such skilled and dedicated professionals at the helm.