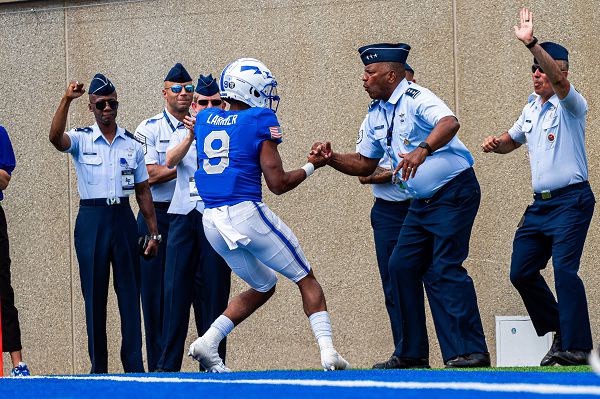 Colorado Springs, Colorado. (September 12, 2023): In many ways, Air Force Academy Cadet football players are just like everyone else in college football with one key distinction. These young men will become officers and leaders in the most sophisticated naval force in history. In this photo by Trevor Cokley, Air Force quarterback Zac Larrier celebrates with Lt. Gen. Richard M. Clark, Air Force Academy superintendent, after scoring a touchdown against Robert Morris University during a game in Falcon Stadium.
The recruiting process at the service academies is the same as at any school, the coaches set their targets and build relationships with recruits like everyone else. The journey to becoming an Academy player begins in high school where applicants are screened and coaches are allowed to contact recruits to help guide them through the process.
While the recruiting process is essentially the same, there are other substantial differences between service academy and civilian football players. Perhaps the biggest is the nature of the scholarships that are awarded to service academy student-athletes.
Unlike civilian colleges, there are no "scholarship" students, every midshipman is on the same four-year military academic program. There is no financial aid as everything is covered by the service and cadets even earn a modest salary, including football players. (This would otherwise be a violation of NCAA rules).
Each service academy admissions board sets the number of recruits that their teams can bring in, and that number is different between them. When it comes to football, the Naval Academy tends to be the most selective due to their recent success on the field.
In this battle, the Air Force fighting Falcons defeated Robert Morris 42-7 in the regular season opener and this is their 17th straight season-opening win.