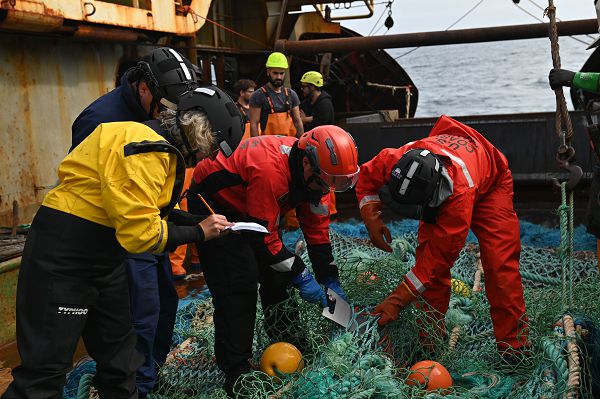 Atlantic Ocean. (September 5, 2023): While chasing drug traffickers gets all the headlines, America's Coast Guard protects us in an important, if not so flashy, way. In this photo by Petty Officer 3rd Class Mikaela McGee, Coast Guardsmen assigned to U.S. Coast Guard Cutter Forward assist fisheries inspectors with the Northwest Atlantic Fisheries Organization to measure a fishing net while at sea. Illegal, unreported, and unregulated fishing (IUU fishing) is one of the greatest threats to ocean health and a significant cause of overfishing. It contributes to the collapse or decline of fisheries that are critical to the economic growth, food systems, and ecosystems of numerous countries around the world. It is also a global problem that disadvantages law-abiding fishers and seafood producers.
According to the United Nations Food and Agriculture Organization, between 11 and 26 million metric tons of fish are caught illegally each year. By avoiding the operational costs associated with sustainable fishing practices, fishers, companies, and nations that engage in IUU fishing receive economic benefit over legitimate actors. These criminals exceed harvesting limits and disregard other conservation and management measures, destroy habitats, and use methods that result in wasteful bycatch. These practices destroy not only the resource today, but also its ability to be sustainably harvested for years and decades to come. Left without alternatives, these conditions entice more and more fishers to seek alternative sources of income such as piracy, drug trafficking, and human trafficking, creating a dangerous downward cycle furthering regional instability.
Examples of IUU fishing include:
Fishing without a license or quota for certain species.
Failing to report catches or making false reports.
Keeping undersized fish or fish that are otherwise protected by regulations.
Fishing in closed areas or during closed seasons and using prohibited fishing gear.
Conducting unauthorized transshipments (e.g., transfers of fish) to cargo vessels.
The Coast Guard, however, faces an elusive enemy in this war against overfishing. The inherent nature of IUU fishing makes it difficult to accurately quantify the full global economic impacts from these activities. But there is little disagreement that it is in the billions, or even tens of billions, of dollars each year.
The world's worst offender is China.
According to a report by the Financial Transparency Coalition, a global network of civil societies and governments, eight out of ten companies responsible for nearly 25 percent of known IUU fishing are from China. According to the U.S. State Department, Chinese vessels are not only more numerous, but they also engage in a higher percentage of illegal fishing than any other nation. There are some 3,000 Chinese vessels worldwide engaging in poaching causing estimated losses of up to $50 billion a year.
According to the Coast Guard, these vessels turn off their satellite trackers to avoid detection and offload their illegal harvest at sea to evade conservation rules. As a result, their illegally caught products can provide unfair competition in the marketplace for law-abiding fishermen and seafood industries.
While stopping IUU fishing may not be as sexy as chasing drug traffickers, their work protects the economic growth, fish stocks, and ecosystems of numerous countries around the world.