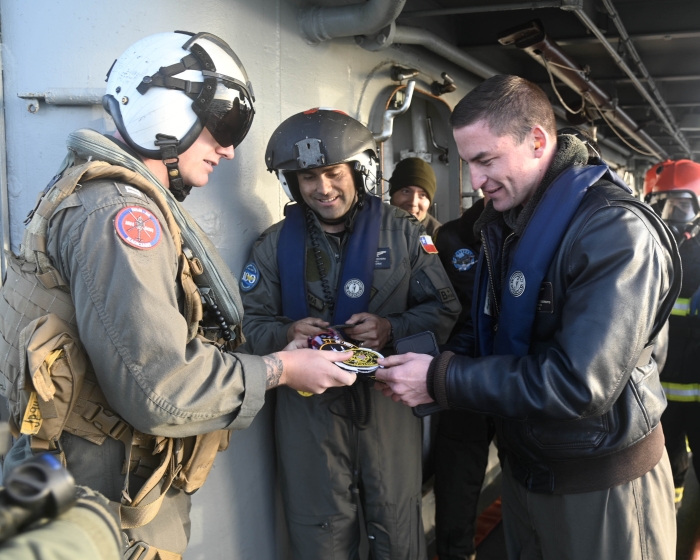 Pacific Ocean. (October 29, 2023): Ask any veteran and they will say the friends they made while serving in the military have lasted a lifetime. In this photo by MC1 Steven Khor, a U.S. Navy helicopter pilot, left, assigned to the "Scorpions" of Helicopter Maritime Strike Squadron 49 exchanges patches with a Chilean navy helicopter pilot after landing on the flight deck of the Chilean navy ship CNS Almirante Williams.
These veteran pilots are participating in the at-sea phase of Teamwork South 2023, a biennial U.S. and Chilean naval exercise that conducts training scenarios in anti-surface and submarine warfare. Established in 1995, the Teamwork South exercises are designed to strengthen the bonds of friendship and cooperation between both Navies.
The Chilean Navy is 25,000 strong including over 5,000 Marines and a fleet of hundreds of transport and combatant ships. The Chilean's also operate four submarines with tender ships to support them. In addition to its military prowess, Chile's armed forces provides social assistance and health care to the civilian population, especially in times of natural catastrophe. This year, U.S. and Chilean pilots got the chance to practice realistic scenarios of surface and anti-submarine warfare while establishing closer coordination in tempo and tactics.
Based at Naval Air Station North Island, California, the "Scorpions" Squadron (call sign Red Stinger) provides combat-ready pilots, air crew, and highly skilled technicians to the U.S. Pacific Fleet. The Squadron flies the MH-60R Seahawk , a twin engine attack helicopter with folding main rotor blades and a hinged tail to reduce its footprint aboard ships. The Seahawk can land on virtually any vessel with a landing pad making it a useful tool for search and rescue operations as well.
Clearly, both navies made new friends and established bonds that will last a lifetime.