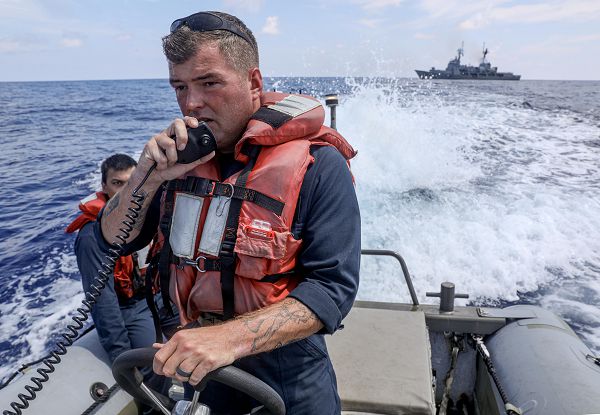 South China Sea. (October 21, 2023): In this photo by MC1 Greg Johnson, Chief Boatswain's Mate Dustin Lewis, from Chattanooga, Tennessee, pilots a rigid-hull inflatable boat after departing the Philippine Navy offshore patrol vessel BRP Gregorio del Pilar. Chief Lewis is assigned to the Arleigh Burke-class guided-missile destroyer USS Dewey which was conducting a joint sailing event in the South China Sea.
The Philippines has become a world hot spot due to increasingly aggressive Chinese naval activity off its coast. Beijing claims sovereignty over nearly the entire South China Sea, an assertion that has been rejected by international courts. The stakes are high for the Philippines as the region is a vital commercial fishing ground while the U.S. sees the waters off its coast as strategically important to projecting military power. China and the Philippines have had several confrontations in the South China Sea recently including a disputed collision between a Chinese coastguard vessel and a boat from the Philippines.
The USS Dewey was named after the first person promoted to the rank of Admiral of the Navy, George Dewey, who became a hero for his leadership in Battle of Manila Bay during the Spanish–American War. This forward deployed destroyer regularly conducts "freedom of navigation" sailings through these disputed waters to assert international law.