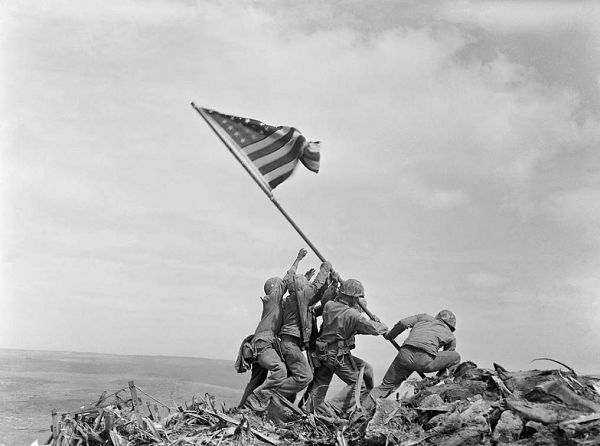 Washington, D.C. (November 7, 2023): This Veteran's Day, Support Our Troops would like to recognize the service of Native Americans to our national defense. Many Americans may not know that a Native American helped raise old glory on Mount Suribachi on Iwo Jima during World War II. In this iconic Associated Press photo by Joe Rosenthal, Marine Corps PFC Ira Hayes, a 22-year-old Pima Indian from Arizona, helps raise the American flag in an act that saved lives and rallied a nation.
PFC Hayes is on the far left with his hands reaching up toward the flagpole, one of six flag raisers that fateful day. Three of the six were killed on Iwo. A member of the 5th Marine Division, Hayes landed on February 19, 1945, and participated in five days of intense fighting to reach the summit.
Native Americans have served in every U.S. military conflict since the battlefields of the Revolutionary War and have a distinguished record of service. In addition to exploits of PFC Hayes, some four hundred native Navajo "Code Talkers" used their unique, Indigenous language to transmit vital messages on the front lines in the Pacific War. Today nearly nineteen percent of Native Americans have served in all branches of the armed forces, carrying on a 200-year tradition.
After his role in the famous flag raising, PFC Hayes returned home to help sell war bonds to support the war and his exploits were celebrated in the 2006 film "Flags of Our Fathers." He died in January 1955 and is buried at Arlington National Cemetery.
The Department of Defense has designated each November as Native American month and a new National Museum of the American Indian has opened offering a virtual tour of Native history entitled "Why We Serve".