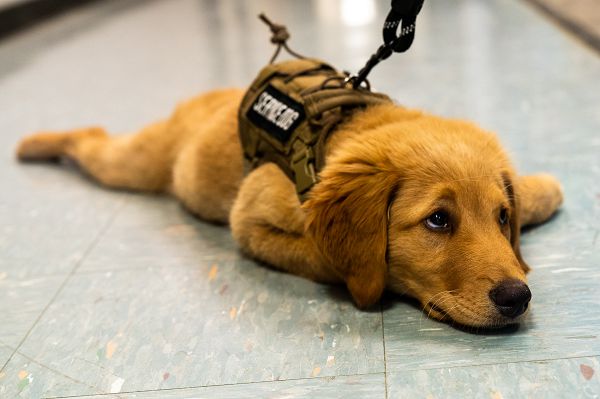 Rosecrans Air National Guard Base, St. Joseph, Missouri. (November 7, 2023): In this photo by Senior Airman Janae Masoner, Koda, the latest support dog for the 139th Airlift Wing, Missouri Air National Guard, poses during a photoshoot while beginning her training as a psychiatric service dog. She is a four-month-old goldendoodle who will assist servicemembers suffering from Post Traumatic Stress Disorder (PTSD) as a therapy and comfort animal. Unlike emotional support animals (ESA), which provide comfort through their presence but require no specialized training, PTSD service dogs are granted specific rights under the Americans with Disabilities Act. These rights include allowing them access to public places where other dogs may be prohibited, such as restaurants, stores, hotels, and on airplanes.
The specialized training these dogs receive helps troops with flashbacks, nightmares, severe anxiety, and uncontrollable thoughts tied to the trauma they suffered.
Typical tasks for PTSD service dogs include waking their handler when they are having nightmares or interrupting flashbacks by responding to signs of stress. These dogs offer comfort during panic attacks and often function as a buffer in crowds to reduce anxiety. They are even trained to intervene to stop self-harming behaviors.
Research has shown these animals help give PTSD sufferers a sense of security and constant companion for twenty-four-hour therapy.