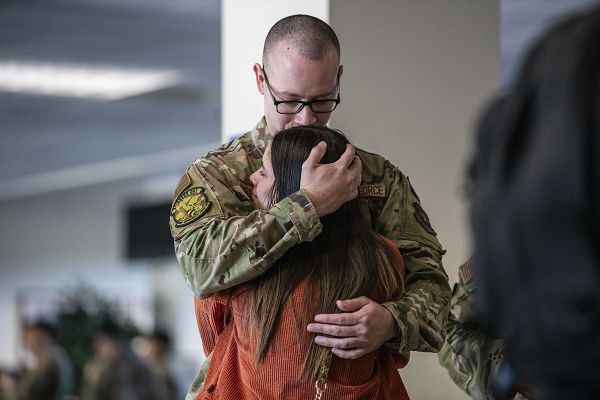 Travis Air Force Base, California. (November 8, 2023): The Air Force has a new plan when it comes to deploying its forces and it means more predictability for the average Airmen. In this photo by Nicholas Pilch, Senior Airman Osvaldo Rodriguez Matias, 860th Aircraft Maintenance Squadron C-17 Globemaster III crew chief, spends time with a loved one before he and more than four hundred other Airmen become the first to deploy under the new Force Generation model.
Force Generation is designed to end the practice of "crowdsourcing" Airmen for overseas deployments and will add stability while improving readiness. Under the previous "Expeditionary" model, Airmen would be assembled from dozens of locations and were expected to arrive in the combat zone ready to perform as a team. In future conflicts, however, there won't be time to work out the kinks before units must be operating as a high-performance team.
The new system establishes a 24-month rotation cycle broken into four, six-month phases; Prepare, Certify, Available, and Reset. During the Prepare and Certify phase, units concentrate on training and evaluating their combat skills in preparation for the Available phase. During this phase, units are deployed with as many operations from their home bases as possible, including security and logistical forces. The final phase allows Airmen time to rest and reset for the next cycle. The program gives Airmen an expectable schedule and lessens the strain on manpower experienced during the Iraq and Afghanistan wars.
The Air Forces says this new structural deployment schedule will evolve over time.