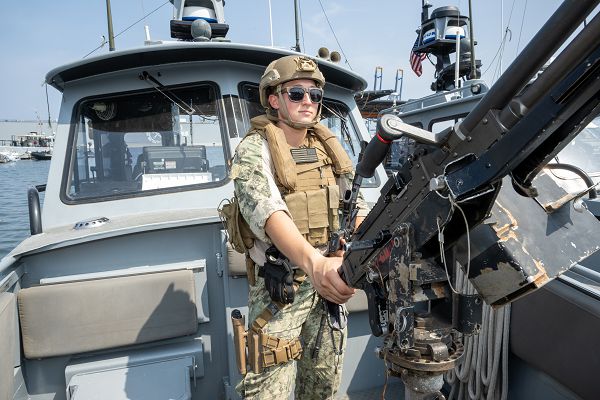 Camp Lemonnier, Djibouti (November 1, 2023): The Red Sea, between Iranian ally Yemen and the impoverished nation of Eritrea, is a tough neighborhood for America's Navy. In this photo by MC1 Maria A. Olvera Tristan, Builder 2nd Class Payton Carl, a gunner from Navy Maritime Expeditionary Security Squadron 11, stands watch at Dorahleh, Djibouti. Based at Camp Lemonnier, Squadron 11 is charged with protecting thirty-eight tenant commands and visiting naval vessels with around the clock port security and escort operations. The base is home to the three warfare specialties including Military Working Dog teams, Army Quick Reaction Forces, and Djiboutian port police.
Now called MSRON forces, today's riverine community can trace its roots to the fearless small boat teams that plied the deltas of Vietnam. Since the bombing of the USS Cole in 2000, MSRON11 has used its small boat fleet to police one of the world's busiest shipping routes. The unit patrols the Bab-el-Mandeb Strait which is the gateway from the Red Sea to the Indian Ocean.
Here the Americans face a host of dangers, from extremists to smugglers, as they enforce international law. These criminals use small, fast boats made of wood that ride low in the water which makes it difficult to detect on radar. They are usually well armed with rifles, sub-machine guns, and even rocket propelled grenades. Squadron eleven prevents these pirates from interdicting lawful shipping or otherwise interfering with the free transit of these international waters.