Meet Your Military: Mother, Daughter Strengthen Bond in Kuwait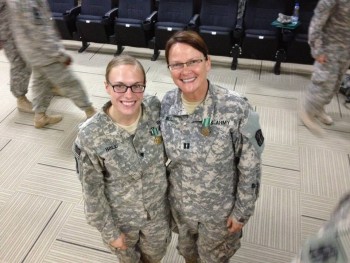 PHOTO: Army Spc. Lydia Boll, left, and Army Capt. Andrea Boll receive Army Commendation Medals for their service with the 452nd Combat Support Hospital at Camp Arifjan, Kuwait, Sept. 5, 2014. CAMP ARIFJAN, Kuwait – Many have heard U.S. soldiers calling their comrades family, only a relatively small number of soldiers have served overseas with a member of their immediate family. The mother and daughter pair deployed together and work in the U.S. military hospital. U.S. Army photo by 1st Lt. Isra Pananon In November 2013, Army Capt. Andrea Boll and Army Spc. Lydia Boll of the 452nd Combat Support Hospital were mobilized to prepare for their deployment to Kuwait.
Mother-and-daughter duo This mother-and-daughter duo has served in the same Army Reserve medical unit since April 2010, when Andrea joined the military. Andrea said she never would expect her children to do something she would not do, so she joined the Army Nurse Corps as a medical surgical nurse to give back to her country. "She followed me into the military, and I followed her into the medical field," Lydia said. Lydia joined the military in 2009, after being inspired by her grandfather, who served in the Army as a saxophonist in the Army Band. Back home, Lydia resides in Wisconsin with her mother and father and Lydia's four younger siblings. The experience of being deployed with her daughter has forced her two youngest children to grow up fast, Andrea said. Her husband, Jim Boll, has embraced this experience with open arms, and is bonding with their other kids at home, she added. The Bolls' middle child, Emerson, also is in the Army, and will be in Afghanistan when Andrea and Lydia return home. When they first heard of the mission to Kuwait, all three wanted to deploy together and get Emerson on the roster as a combat medic. But it was not to be, and Emerson is serving in Afghanistan on a forward surgical team.
Health care careers In civilian life, Andrea and Lydia work at Children's Hospital of Wisconsin, Andrea in the cardiac intensive care unit as a critical care nurse and Lydia as a care partner in the surgical/medical ICU. Working together at home was good preparation for their current deployment, they said. Although many soldiers could not imagine having their parent or child overseas with them, the Bolls said they cannot imagine not having each other here. Andrea is a registered nurse in the ICU/intensive care ward here, and Lydia works in the medical regulating office.
Special bond The bond that soldiers experience while deployed together is something unexplainable, but for the Bolls, it is special. They share the experience by exercising, shopping and sitting and enjoying coffee together. As with any deployment, their experience has had its ups and downs. Andrea's sister died in April, and although it was nice to have Lydia here to mourn with, it was difficult for Lydia to stay overseas while her mom traveled home for the funeral service. On the other hand, Lydia was excited to have her mother here to tell in person when she became engaged during the deployment. The Bolls will return to Wisconsin soon, when their tour here ends.
Written Sept. 9, 2014 By: Army 1st Lt. Isra Pananon and Army Staff Sgt. Laura Treangen 3rd Medical Command Deployment Support
Republished and redistributed by permission of DoD. ***SOT***