Meet Your Military: Missileer Completes First Launch Center Alert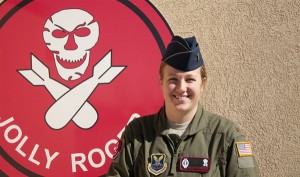 PHOTO: Air Force 2nd Lt. Holley Macpherson poses outside the 90th Operations Group at F.E. Warren Air Force Base, Wyo., Oct. 20, 2014. U.S. Air Force photo by Senior Airman Jason Wiese F.E. WARREN AIR FORCE BASE, Wyo. – Every career begins with a first day on the job. Everyone has been the newbie at some point. And so it goes in the world of nuclear deterrence. Air Force 2nd Lt. Holley Macpherson, a 320th Missile Squadron deputy missile combat crew commander, took a major step in her career this month, manning a launch control center for the first time. Macpherson received her Air Force commission in May 2013 and attended pilot training shortly after.
In March 2014, she attended initial skills training at Vandenberg Air Force Base, California, for five months to learn the basics of missile operations. "They taught us a lot," she said. "They couldn't teach us everything, because you can't show everything in a trainer, but they tried to throw all the standard scenarios at us they could with the equipment we have down there."
After graduation and reporting to her assignment here, even more training lay ahead for Macpherson. After about a month on station, she was ready for her first alert. On Oct. 9, she descended into a launch control center here for her first alert. Two-person missileer teams man the underground centers for 24-hour shifts, directing topside activities and monitoring the Minuteman III weapon system sorties their flight areas control.
Like a pressurized airplane cabin Macpherson described the climate-controlled launch control center as feeling somewhat like the inside of a pressurized airplane cabin. "We basically monitor, make sure all our sorties in the flight area are doing [well]," she said. "We're in charge of all the people out there, too." Missileers spend much of their time on alert communicating with maintainers and other operators. It was nice talking to real people on the other side of the phone line rather than just the instructors playing a role during a training scenario, Macpherson said. "It was pretty similar to what we'd done in the trainers," she added. "I felt more comfortable down there than I thought I would, because I had spent so much time training." Being on alert for real felt very different from the trainer rides -- the key difference being the actual missile connected to the equipment in the launch control center, Macpherson said, adding that the real-world mission brings with it a lot more pressure.
Paired with experienced commanders Although the Air Force places significant trust in the new lieutenants who pull their first alerts, the new officers don't go without help. They are paired with experienced missile combat crew commanders who are responsible for everything that goes on in their flight areas and train their deputies during their first alert shifts. Air Force 1st Lt. Julianne Jamison, a 320th Missile Squadron missile combat crew commander, supervised Macpherson during her first alert and continues to do so on Macpherson's ongoing alerts. Jamison walked Macpherson through the routine tasks missileers accomplish, testing her proficiency along the way. "She did very well," Jamison said. "I am lucky to have her as my deputy. She was just a sponge and running as much [of the mission] as she possibly could." While in the launch control centers, missileers schedule their sleep and work rhythms to ensure the centers are constantly manned. Jamison said she woke up Macpherson several times during her first alert so she could witness real-world tasks being accomplished. As the old saying goes, "Smooth seas don't make skilled sailors." This also is true for the alert officers in charge of vital nuclear assets. High activity levels in the center make for better missileers who are more capable of handling any situation that might come their way, Jamison said. "I always tell my deputies: 'Never be afraid to wake me up,'" she said. Much of the time in missileer training is spent simulating worst-case scenarios, so a look of anticipation hangs on the faces of new missileers while they are on alert -- a look that says, "I'm ready for everything," Jamison said. "She asked me during her first alert, 'When do you feel comfortable?' and I told her it is really based on what you see during your first 10 to 20 alerts," Jamison said. "I really believe you need to learn if you're going to be a future commander. It does take a while, but you build that experience over time."
Squadron was helpful Macpherson said when she first arrived with her fellow graduates, her squadron was very helpful in pointing them in the right direction and setting them up for success. "Everyone's really willing to answer whatever questions you have at any time," she said. In the short term, aside from alerts, Macpherson undergoes regular update training to keep her knowledge and job skills current. The training includes simulation trainer rides, classes and self-study. Upgrading from a deputy to a crew commander can take anywhere from months to years, depending on individual skills and progress. "I won't have to worry about new training until I upgrade to commander, which won't be for a while," she said.
Written Oct. 30, 2014: By Air Force Senior Airman Jason Wiese 90th Missile Wing
Republished and redistributed by permission of DoD. Redistributed by www.SupportOurTroops.org