Meet Your Military: Boom Operator Follows in Father's Footsteps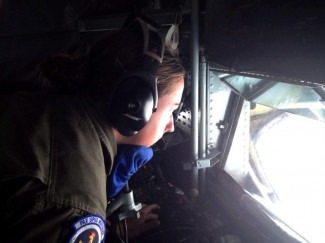 PHOTO: Air Force Senior Airman Danielle Repp performs an aerial refueling operation in a KC-135 Stratotanker. Photo courtesy of Daniel Repp ROYAL AIR FORCE MILDENHALL, England – Some families have a history of military service, whether it be in different branches or the same one. Less common however, is for two consecutive generations not only serve in the same service branch, but also to pursue the same career field. This is the case with Air Force Senior Airman Danielle Repp, a 351st Air Refueling Squadron boom operator from Spokane, Washington, and her father, retired Air Force Chief Master Sgt. Daniel Repp. Both Repps chose to be boom operators, with Danielle entering the Air Force in 2012. Her father enlisted in 1981. Danielle said her desire to become a boom operator stemmed from her father's career, which she got to observe first-hand growing up. "Boom operator was definitely No. 1 on my list," she said. Her first exposure to the boom operator world was all it took to peak her interest in the career field, she said. "I got to fly space-available once on a flight from Fairchild Air Force Base, Washington, to Hawaii, and I got to watch [my dad] during [a [refueling operation]," she recalled. "Seeing pictures and hearing how much he likes the job made me think, 'You know, I don't want to sit at a desk all day. I want to be out there doing something.'"
Daniel said he supported Danielle in her decision as soon as he heard about it. "I'm proud my daughter chose to serve her country in a job that motivates and challenges her to be her best," he said. "It's been fulfilling for me to see the community I served for 30 years is solid, with a sound formal education process, and filled with strong leaders, instructors and professional aviators." Although they were never stationed together, they have a bond through their mutual love of the career field. "Our enlisted aviators are a little closer to the pointy end of our nation's will than many, and being a boom operator provided a sense of mission and purpose," Daniel said. "The support of our tankers enables our nation to feed the hungry, protect the threatened, and bring hope to the despondent." "It's such a cool job," Danielle said. "I love when you take passengers on a flight and you get to see their eyes get all big when they see the jet behind us. It reminds you how cool the job actually is.
" Things have changed since Daniel joined the Air Force. "When I was a senior airman, we flew with navigators," he said. "The boom operator made celestial observations with a sextant to aid the navigator in position keeping, and night lighting for air refueling was poor and unreliable at best," he recalled. "There weren't the high-fidelity simulators we have today for pilots or boom operators. Training relied on more live-flight learning." "It's still the same job, but the mission is a lot different," Danielle said. "I can still call my dad up any day and be like, 'This happened on the jet today, and I thought that was weird,' and he will sit there and talk me through everything, break it down and put it into terms that I'll understand a lot better." In the end, it's still the same over-arching mission. The father and daughter duo helped enable global reach and made the Air Force a more capable force. They just happened to do it decades apart.
Written Sept. 23, 2014 By: Air Force Airman 1st Class Dillon Johnston 1st Armored Brigade Combat Team, 1st Infantry Division
Republished and redistributed by permission of DoD. ***SOT***