Video proof of work ethic and spirit of our soldiers
Watch this U.S. Soldier refuse to give up. Inspiring stuff.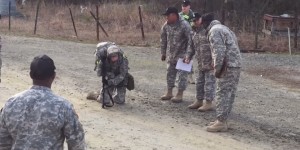 Sarah Cudd collapses short of the finish line on a 12-mile ruckArmy Capt. Sarah Cudd exemplifies the work ethic and spirit of our soldiers. She was finishing the 12 Mile Foot March at Fort Dix, NJ, an event that needed to be completed in under 3 hours. As she approached the finish line, she collapsed, from seeming exhaustion. Watch the video here. She didn't give up. She fought, and she fought some more. It's remarkable to see. Want to learn more about how to help the troops? Click here to donate and show your support for the brave men and women soldiers serving our country. Please consider reaching out to us.
About Support Our Troops
Support Our Troops® is America's Military Charity. We enhance the morale & well-being of the troops and their families worldwide. Our programs provide millions of dollars' worth of care goods and services including family assistance, kid's camp assistance, positive public support and more at hundreds of locations around the globe. If they're there, we're with them. Please consider donating today.