Red Robin supports America's troops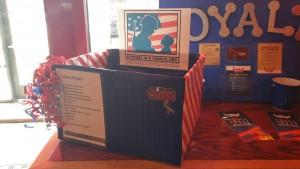 Sometimes people hear about our organization, do some research, and then get right to work for the troops.
This happened recently with Nicole Jones, a Regional Operations Director at Red Robin. She heard about Support Our Troops®, decided the organization was to her liking, and wanted to get involved. What happened next, however, was truly surprising.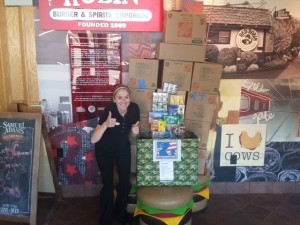 A Red Robin employee poses with donations collected at a Red Robin."Our division really wanted to help make a difference in our community," Nicole said. "We are such a large organization and we thought we could get all of our restaurants involved in something that was important to many." Nicole got 42 restaurants involved with collecting donations.
"We had each restaurant get a large box that they decked out with fun decorations (i.e. camouflage paper, Armed Force medallions, American flags etc). They put out the large boxes for both guest and team members to donate," she said. "We added a list of items needed that we found on the website.
After that we just talked to people about what we were doing and why. It took little effort and brought back so much more."
So how much was collected? Stay tuned to our blog to find out!