Meet Your Military: Minnesota Guardsman Helps Croatian Village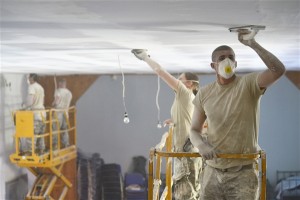 Army Spc. Christopher Anderson, a carpentry and masonry specialist, smooths plaster on a ceiling while working with fellow Minnesota Army National Guardsmen and Croatian soldiers to repair and rebuild a roof on a damaged community center in Racinovci, Croatia, June 18, 2015. Anderson is assigned to the 851st Vertical Engineer Company. Minnesota National Guard photo by Air Force Tech Sgt. Lynette OlivaresRACINOVCI, Croatia, July 27, 2015 – The Minnesota National Guard's State Partnership Program with Croatia has been going on for decades. In conjunction with U.S. European Command, Minnesota units or teams take on logistics and labor-intensive projects in a village in Croatia.
The experience of helping a community in need isn't new for most Minnesota Guard members, including Army Spc. Christopher Anderson, a carpentry and masonry specialist from the 851st Vertical Engineer Company out of the Camp Ripley Training Center.This year marks his second trip to Croatia. This year's trip includes a team of about 30 Minnesota Guardsmen who have less than three weeks to repair the large roof of a village community center badly damaged by flooding last year. "Being able to come and do missions like this is awesome," Anderson said."Trips like this make your time in the Guard a lot more enjoyable, and it's nice to change things up."
'A Big Satisfaction' The project in the local community has attracted onlookers from around the village. Many are interested in the progress and the American military unit which has joined them temporarily in their villages and places they call home. "It's a big satisfaction to build something, see people enjoy it and how it affects the community," Anderson said.
The engineers from the 851st VEC have gotten a great start working side-by-side with the Croatian army in getting the roof prepped for repair and updates. "I am interested in seeing how they want us to do the roof," Anderson said. "You hardly ever see these kinds of clay tiles and roof structure in the states. It might take us a little bit to figure out how it works the best." Despite the language barrier between the Croatians and Americans -- plus differences between the English and metric systems of measurement -- everyone involved manages to work together for the good of the village.
"A lot of the people in the village have seen real war and real hardships, but it is really cool to see most of them being these glass-half-full people," Anderson said. "It has been great meeting them and knowing how appreciative they are that we are here."
Written July 27, 2015 By: Air Force Tech. Sgt. Lynette Olivares Minnesota National Guard
Republished and redistributed by SOT by permission of DOD