Military Airman Who Helped Stop Attack on Paris-Bound Train Will Get Purple Heart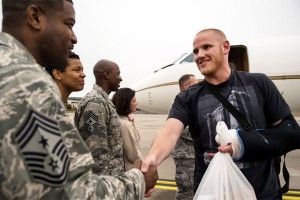 U.S. Air Force Airman 1st Class Spencer Stone meets Chief Master Sgt. Phillip Easton, 86th Airlift Wing command chief, upon his arrival to Ramstein Air Base, Germany, Aug. 24. 2015. (Sara Keller/U.S. Air Force)Recently - Spencer Stone, the Military Airman 1st Class who helped his two American friends take down a terrorist with an AK-47 assault rifle on an Amsterdam-Paris train last month will be awarded a Purple Heart. Air Force Secretary Deborah Lee James announced the news on Monday, according to an article by Military,com.
Stone has been called our very own "Captain America," and was already getting the Airman's Medal, the highest non-combat award in the Air Force. The honors will be issued at a Pentagon ceremony on Wednesday, the article said.
Stone, Skarlatos and their friend Anthony Sadler were on vacation Aug. 21 when they subdued, disarmed and hogtied a heavily armed gunman on a train heading from Amsterdam to Paris, according to Air Force Times. The gunman, who was armed with the gun, a Luger and a box cutter, stabbed Stone during the melee, sending him to the hospital. France awarded all three Americans the Legion of Merit within days of the attack.
The gunman was identified as 26-year-old Moroccan Ayoub El-Khazzani. He was believed to belong to a radical Islamist movement. Check back to our blog for more military updates. Want to learn more about how to help the troops? Click here to donate and show your support for the brave men and women soldiers serving our country. Please consider reaching out to us.
About Support Our Troops
Support Our Troops® is America's Military Charity. We enhance the morale & well-being of the troops and their families worldwide. Our programs provide millions of dollars' worth of care goods and services including family assistance, kid's camp assistance, positive public support and more at hundreds of locations around the globe.