Military standoff between North, South Korea quells after talks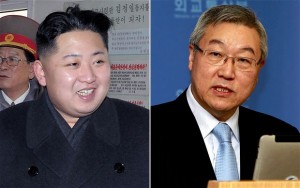 North Korea's leader Kim Jong-un (left) and South Korea's Foreign Minister Kim Sung-hwan Photo: AFP/Getty Images/EPASEOUL, Tuesday - After days of escalating military tensions between North and South Korea, the contentious countries have agreed to end a standoff, according to ABC News. The countries had been quarreling over a series of events that led to one of the most serious escalations of military intent in over five years.
The leader of North Korea, Kim Jong-un, ordered a "quasi-state of war" and South Korea had raised its military readiness to the its highest level. The two Koreas fired artillery shells across their heavily-fortified border, known as the Korean Demilitarized Zone, and South Korea broadcast anti-North Korean messages over a loudspeaker. The exchange of fire did not result in any damages or injuries, but the two countries argued over who had fired first.
Had the military standoff escalated, the implications could have potentially sparked a global conflict, one that the United States Military might have intervened in. North Korea said it would lift its semi-state of war and said it "regret" causing injuries to South Korean soldiers from a landmine blast on Aug. 4. South Korea, starting on Tuesday, will stop its broadcasts over the border.
The two countries negotiated for more than 43 hours, finally reaching a deal. Talks are expected to continue in the future. Want to learn more about how to help the troops? Click here to donate and show your support for the brave men and women soldiers serving our country. Please consider reaching out to us.
About Support Our Troops
Support Our Troops® is America's Military Charity. We enhance the morale & well-being of the troops and their families worldwide. Our programs provide millions of dollars' worth of care goods and services including family assistance, kid's camp assistance, positive public support and more at hundreds of locations around the globe.