Meet Your Military: Lieutenant Credits Navy Success to Junior ROTC Program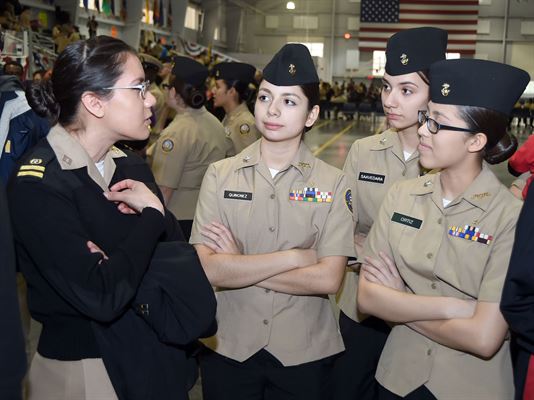 Navy Lt. Kimberly Rios talks with Navy Junior ROTC cadets from East Aurora (Ill.) High School at the 2016 Navy Junior ROTC Area 3 West regional academic, athletic and drill competition in the Pacific Fleet ceremonial drill hall at Recruit Training Command, Naval Station Great Lakes, Ill.,, Feb. 8, 2016. Navy photo by Scott A. ThornbloomGREAT LAKES, Ill., March 31, 2016 — Navy Lt. Kimberly Rios made a reconnection with her past when she was promoted to lieutenant Feb. 8.
That reconnection was with her East Aurora High School Navy Junior ROTC unit and her former Navy Science instructor, retired Navy Chief Petty Officer Greg Fayfar, who was on hand to pin Rios' lieutenant bars on her khaki shirt collar. It also allowed her to reflect how being part of Navy Junior ROTC molded and guided her to being a member of the Navy Judge Advocate General Corps.
"Being promoted felt great, but what really brought it full circle was having Chief Fayfar there," said Rios, who spent her freshman and sophomore high school years in the East Aurora Navy Junior ROTC unit before her family moved to Oswego, which didn't have one. "I look back and can remember Chief Fayfar's pride in the Navy and his pride in his service. It was great. ... I wanted to have that same pride and wanted to have that same experience. His love for the Navy was so contagious it just stuck with me." Rios said because her time with the East Aurora unit was cut short by her family's move to Oswego, those two years really stayed with her.
Unfinished Business
"After that, I felt I had unfinished business," she said. "My experience with the Navy wasn't completed yet." Rios said aspects of the Navy Junior ROTC program can lead someone to want to pursue a career in the military.
"It's not like the instructors ever told me to join the Navy or [said], 'Here is what the Navy can do for you.' It's not like they were aggressive about trying to influence our decision about what we were going to do after high school," she said. Rios said the lessons she learned during her two years with the unit at East Aurora through her instructors' Navy experiences and their pride in their service -- along with the motivation they provided during physical training and drill practices, or by teaching her discipline, teamwork and dedication -- were some of the reasons she kept joining the Navy as a choice after high school and college. "It was through those lessons that I realized what the Navy was about. And it was something I wanted to be part of," she said.
Two Cum Laude Degrees
Rios took her good grades and wide range of extra activities from Oswego East and entered Aurora University, where she graduated cum laude in 2011. She then moved to Chicago and attended the DePaul School of Law, graduating cum laude with a law degree. After a little research and following graduation from DePaul, Rios took her law degree to a Navy recruiter and signed up. She headed to Officer Development School at Officer Training Command in Newport, Rhode Island, and received her Navy commission to ensign in 2014. Today, she is a Navy JAG lawyer working for the Navy Region Legal Service Office on Naval Station Great Lakes, helping various commands on the base with all manner of legal issues.
Her fellow JAG lawyers can see how the two years of Navy Junior ROTC at East Aurora helped to mold Rios into the newly promoted Navy lieutenant she is today.
"[The program] motivates its cadets to choose a career in public service. [It] cultivated Lieutenant Rios's desire to serve her community as an attorney and her country as a sailor in the U. S. Navy," said Navy Lt. Cmdr. Matthew Wooten, staff judge advocate for Naval Service Training Command. Also, Wooten said, Navy Junior ROTC provides leadership skills that enable cadets to affect the organizations they serve. "Lieutenant Rios's keen ability to positively influence sailors of all pay grades, from seaman to admiral, stems from her time in [Navy Junior ROTC," He added. Fayfar said being invited to take part in Rios's promotion was an unbelievable honor.
"When she came into the unit, I knew she was something special," he said. "She volunteered to be a leader in a number of activities and events. She really excelled in whatever she took on."
Written March 31, 2016 By Scott A. Thornbloom. Republished and redistributed by permission of DoD. ***SOT***